<!PHP Block to display review !>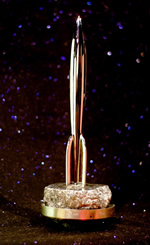 Hugo Nominations -- Some Short Form Recommendations by Sam Tomaino
Review by Sam Tomaino
SFRevu.com
Date: 24 February 2010 /

Deadline for Hugo Nominations is midnight, March 13th, 2010.

Best Short Fiction of 2009

Well, the nominations for the Hugos close soon, so I thought I'd go through my reviews and excerpt the reviews for short fiction that I thought were Hugo-worthy at the time. I must be getting picky in my old age. I only came up with 2 novellas and three novelettes. I did get six short stories so take your pick!

Novellas:

"Gunfight on Farside" by Adam-Troy Castro. Set in some future after the Moon had been settled for a long time, it's narrated by a woman with the unlikely name of Jessie James. She sets out to talk to an old man named Malcolm Bell, who had been the victor of a gunfight in the early days of the lunar settlement The man is a hermit but he is willing to answer her questions and the story really gets interesting there. This one had a fine sense of place and time and a unique science fiction idea. So it will be on my Hugo short list when I make that up a year from now. (Analog, April 2009)

Kristine Kathryn Rusch's "Broken Windchimes". This was an absolutely beautiful story. Our unnamed narrator is a "windchime", an adult male soprano that performs for a race called the Pané on the planet Djapé. The Pané demand perfection and windchimes are sheltered so that they are not contaminated. The narrator's voice cracks during a performance and his career is ruined. But he has heard forbidden music, music from Earth. So he leaves Djapé for a space station called the Last Outpost, a crossroads between human worlds and Djapé. There, he goes to a club and hears the Blues and that is a revelation to him. That's only the first part of the story and it gets even better. As I said, this was a truly exceptional story and just what I have come to expect from Rusch. (Asimov's, September 2009)

Novelettes:

"One Bright Star to Guide Them" by John C. Wright, which turned out to be my favorite. Thomas S. Robertson has just turned 40 and has been promoted at work. Arriving home late one night, he finds a black cat at his door. He recognizes it as Tybalt, a magical cat of his youth. When he was a boy. He and three friends, Richard, Sally and Penny had entered a fantasy world called Vidblain, "and broke the Black Mirror of the Winter King, and restored Prince Hal to his throne at Caer Pendewen". Tybalt warns him that England itself is menaced by the Shadow King and he must do battle again. But Thomas is now an adult, didn't he put away childish things? I loved this story for the hints we got of a story that never existed, mentioned, in passing, in a way that makes it real. We get a great story here of Thomas, his childhood friends and how he does battle as an adult. (F&SF, April/May 2009)

Mike Resnick is the all-time short fiction award winner and here he is paired with newcomer, Lezli Robyn for the novelette "Soulmates". One thing I always find in Resnick's stories is Heart and this one has plenty of it. Gary is man racked with guilt. His wife, Kathy, had been badly injured in a car accident and was brain dead. On the advice of doctors, he had turned off the machines keeping her breathing. He feels that he killed her. He has begun to drink, heavily, and is in danger of losing his job as a night watch man where he keeps an eye on sixty pre-programmed robots. He starts drinking early in his shift one night and falls down. He is helped by a robot called MOZ-512 and leans on it to complete his shift. He starts talking to the robot and calls him Moze. They have an effect on each other and therein lies a wonderful tale. (Asimov's, September 2009)

"The Ghost-Hunter's Beautiful Daughter" in the story by Christopher Barzak is Sylvie, a fourteen-year old girl who can see ghosts when she's looking at them. When she sees them, her ghost-hunter father can see them, too. He snaps their picture with an old Polaroid camera. The ghosts disappear and her father thinks they're gone. But they are not, they are now in the photograph and Sophie can talk with them. This all started when her mother died. Her father saw her ghost and snapped the picture, so Sophie talks with her mother all the time. Sophie is uncomfortable with what her father is doing. How she deals with it makes for a great novelette. (Asimov's, October/November 2009)

Short Stories:

Steve Rasnic Tem's "Charles". It begins with a woman visiting her grown son, Charles, on the night before his wedding. She has not visited him before and there is an estrangement between them. I won't reveal what it is but it's something truly startling. The story become more and more strange and ends in a very eerie way. While the story may be a bit too supernatural to qualify for a Hugo, I'm just going to consider it a fantasy and put it on my Hugo Short List anyway. It's that good. (Black Static 12, August/September 2009)

Jason Sanford's "Here We Are, Falling Through Shadows". Our unnamed narrator is a fireman, answering a call one night. The difference here is that his world is one in which things they call "rippers" haunt any place that is in shadow. The rippers are beings that snatch people away into a dark dimensional portal, ripping them to shreds as they go. They won't enter houses that are sealed shut and can't enter places completely illuminated. They have taken many people, including our narrator's wife. At home, he finds out that his daughter, Sammy, has been communicating with one. She says it's her mother. Outside of his firehouse, he has a conversation with a something that says she's his wife. One night, when he is at the firehouse, his cell phone rings and it's his daughter saying goodbye before she is taken. This is the kind of story that would be difficult to end but Sanford nails it. (Interzone 225, Nov/Dec 2009)

You know when you read a story by Carol Emshwiller that it's going to be something really different and "The Perfect Infestation" is a great example of this. Aliens decide to invade Earth by sending seeds down to implant themselves in strategic creatures. No, it's not humans, it's dogs and we have a story from the viewpoint of one such invader. The story is too delightful for me to reveal any more details but I will say I liked this very much and consider it Hugo worthy. (F&SF, January 2009)

Barry B. Longyear holds a special place in my heart as he is one of the first authors I ever nominated for a Hugo Award. That was back in 1980, when he did so well and won. "The Monopoly Man" is on my Hugo short list. Cheri is at her life's lowest ebb, She is a drug-addicted prostitute who has been mugged and horribly beaten. Then, she meets a man in the park who looks like the old man on the Monopoly cards and he wraps her in his overcoat. This begins a wonderful story of redemption and repayment. It's got the heart that was always in Longyear's stories and brought me back to them. It's so good to have stories by him to read again. (F&SF, January 2009)

I had read Mary Robinette Kowal's fiction in the small press and liked the work she did guest-editing Shimmer a while back. I was glad to see her win the John Campbell Award for Best New Writer. So when I saw her name next to "The Consciousness Problem", my expectations were high. I was not disappointed. Elise is a woman who has suffered a head trauma in a traffic accident. As a result, she can, at best, work as a housewife until she recovers. She and her husband, Myung, had been working on cloning and consciousness transfer. Myung has continued the work and had success in cloning himself. Kowal crafts a brilliant story here. (Asimov's, August 2009)

"Away From Here" by Lisa Goldstein. I love Goldstein's stories and this one is one of her best. Liz is a fifteen-year old girl, working hard to keep her parents' hotel going. One day, an odd group of people check in. The one in charge calls himself Ebenezer Monologue and seems to have a talking mouse. She checks them in and they pay in cash. The cash disappears from the safe but her mother is strangely unconcerned. These people show up every ten years and they never charge them. Liz sees many wonders during their stay and finds out some surprising things. (Asimov's, September 2009)

If you are eligible to nominate for the Hugo, please take the time to look over the works from the previous year and exercise your privilege to nominate.
---
advertising index / info
Our advertisers make SFRevu possible, and your consideration is appreciated.

<!- Google Adsense Skyscraper --> <!- End Google Adsense Skyscraper -->