<!PHP Block to display review !>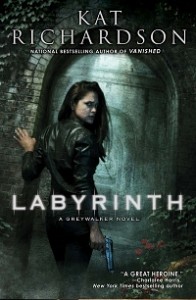 Labyrinth (Greywalker, Book 5) by Kat Richardson
Review by Gayle Surrette
Roc Hardcover ISBN/ITEM#: 9780451463364
Date: 03 August 2010 List Price $24.95 Amazon US / Amazon UK / Show Official Info /



Labyrinth takes place almost immediately after Vanished. Harper has returned from London where she learned more about the grey and her abilities. But once in Seattle, Harper finds Quinton had to move into her condo because vampires were killing in the tunnels and the shock weapon he'd developed wasn't working. She'd been told that "things aren't what they seem" by several ghosts. She's also come to believe that her father may be alive and trapped in the grey. But she's hardly unpacked before events begin to keep her and Quinton on the run while trying to solve the question of who is out to get them and why.

<! Table with Quote !>

Once again, Richardson keeps the plotting tight and the action nearly non-stop. While each book has a central mystery that Harper needs to solve, Labyrinth has not just one mystery to solve but several that on the surface seem to be unrelated but somehow manage to push Harper in the one direction she doesn't want to go.

We learn more about the grey and Harper's abilities. As the series has moved forward, Harper has changed and adapted. She's gone from denial to a grudging acceptance since her powers tend to cause havoc with the people close to her, if by havoc you mean near death experiences or fates worse than death. The guilt has been wearing on Harper, so much so that she believes that the current crime wave in Seattle is all her fault. But is it just paranoia or could she have a point.

In many ways, Labyrinth ties up nearly all of the niggling little mysteries that have hung around in the background of the main story throughout the series. Be prepared, because Richardson really ramps up the tension and the payoff. I can't imagine where the series will go from here but there are certainly lots of possibilities. Over the course of the series, we've seen change and growth as Harper has had to adapt to her new abilities to see into and effect the grey. At first she wanted to learn what to expect but she wanted the Dummies Guide to the Grey not to actually spend time to truly internalize the knowledge. Now she's picked up some new skills from her London adventure and not a moment to soon either if only she can pull it all together in time.

You could read the book without reading the previous ones but the since the entire series builds up to this one, it's best to read the prior books first.
---
advertising index / info
Our advertisers make SFRevu possible, and your consideration is appreciated.

<!- Google Adsense Skyscraper --> <!- End Google Adsense Skyscraper -->