<!PHP Block to display review !>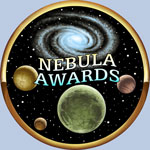 Nebula Award Winners Announced for 2010 for Works from 2009

Date: 16 May 2010

Links: Nebula Award Website / Show Official Info /



Additional Honors
During the ceremonies, Joe Haldeman was honored as the next Damon Knight Grand Master, while Neal Barrett, Jr., was honored as Author Emeritus. Vonda N. McIntyre and Keith Stokes were honored with SFWA Service Awards while the SFWA Solstice Award, bestowed upon individuals who have made a significant impact on the science fiction or fantasy landscape, was presented to Tom Doherty, Terri Windling and the late Donald A. Wollheim.

About SFWA
Founded in 1965 by the late Damon Knight, Science Fiction and Fantasy Writers of America brings together the most successful and daring writers of speculative fiction throughout the world.

Since its inception, SFWA® has grown in numbers and influence until it is now widely recognized as one of the most effective non-profit writers' organizations in existence, boasting a membership of approximately 1,500 science fiction and fantasy writers as well as artists, editors and allied professionals. Each year the organization presents the prestigious Nebula Awards® for the year's best literary and dramatic works of speculative fiction.
---
advertising index / info
Our advertisers make SFRevu possible, and your consideration is appreciated.

<!- Google Adsense Skyscraper --> <!- End Google Adsense Skyscraper -->