<!PHP Block to display review !>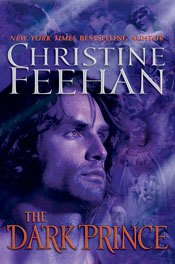 Dark Prince: Author's Cut Special Edition by Christine Feehan
Cover Artist: Don Sipley
Review by Harriet Klausner
William Morrow Hardcover ISBN/ITEM#: 9780062009623
Date: 01 March 2011 List Price $19.99 Amazon US / Amazon UK / Show Official Info /



In the remotest part of the remote Carpathian Mountains lives an immortal super race named for the locale where they reside. However, these blood drinkers may be immortal, but the species is nearing extinction. Women are few and no babies have survived for ages. Additionally there is the crisis of the overwhelming numbers and technology of the humans who hunt these Carpathians as if they are soulless beasts, which many become due to the fact that the Carpathian male must find his soulmate or spiral into madness or the few who manage to recognize their insanity and commit suicide.

The current leader Prince Mikhail Dubrinsky knows he is losing his mind, which will be devastating for his people. The empty loneliness has become unbearable and he fears if he does not take his life he will start taking the lives of the innocent. However, there has recently been a female voice inside his head whose gentleness calms the savage beast that roars increasingly inside his brain. He is the obsessed with a need to meet the voice that pulled him from the brink of overwhelming despair.

Mikhail and psychic Raven Whitney, who hunts serial killers, are immediately attracted to one another. As he realizes that she is his soulmate, he abducts her. However, Mikhail has little time to persuade his soulmate she has saved his life as a monster stalks the Carpathians with genocide as the goal.

Albeit this is a reprint of the original first Dark Carpathian romantic fantasy released in the late 1990s; however, Christine Feehan has added over a hundred pages removed from the 1999 original in what is called "The Author's Cut Special Edition". The additions are not all just sexual padding; as many also provide more insight into what happens to the hopeless Y chromosome if they fail to find their soulmate within a few centuries starting with going totally color blind. The story line remains fast-paced with plenty of action while also establishing the Dark rules of biology.

Mikhail is a terrific protagonist as he rides an emotional roller coaster starting with being on the edge of surrender to euphoria as if he suffers from bipolar disorder. Raven is his match, but she hunts down his kind who turns into rabid insane serial killers without any remorse. He must persuade the woman she is his anchor after that initial "mind meeting" and decides he will have mind-sex before physically taking her. The mental sex is a refreshing effect though it seems like a sort of telephone or cyber sex; the physical sexual encounters occur too frequently and detract from the two subplots of saving his soul and saving his people.

In summary, fans of the twenty-one books and counting saga and newcomers will marvel at the underlying concept of the Dark Carpathian finding their soulmate or becoming a vampiric monster; as that premise remains strong through the series and this special edition reprint.
---