<!PHP Block to display review !>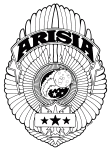 Arisia -- Jan 14-17, 2011
Review by Daniel Dern
Arisia
Date: 07 January 2011

Links: Convention Website / Show Official Info /



Arisia 2011, held January 14 through 17 at the Westin Waterfront hotel in Boston, continued this con's excellent efforts -- this was the twenty-second annual Arisia -- in making and keeping SF and fandom fun, and in offering something for fans of all ages and interests.

And it sure looked like they did. There were fans of all ages, from "boomers" like me and post-boomers to teens, pre-teens and recent teens, along with parents toting tots, and kids and YAs -- many with "hall garb" from nifty hats and steampunk goggles through full regalia. (See my accompanying photos.) Both the large numbers and multi-generational presence bode well, and show that SF and cons don't have to become "gray-yards."

Get the flash player here: http://www.adobe.com/flashplayer

The Guest of Honor (GoH) roster included Kelley Armstrong, Writer GoH; Shaenon Garrity, webcomic GoH; Josh Simpson, artist GoH; René Walling, fan GoH; and Seanan McGuire, special guest.

This was Arisia's first year using the Westin Waterfront; for the previous four years, it had been at the Hyatt Regency on Memorial Drive in Cambridge, whose limits and constraints included not enough parking, being at least half a mile from public subway/bus stops (often a major problem, given the major snowstorms that often happen just before or during the convention -- somebody really should do something about this weather!), not enough restaurants, only three elevators -- not sufficient given that the main activities were on the main levels, and the art show and kids Fast Track were ten-plus flights up.

Boskone, one of the Boston area's other annual science fiction conventions, has been using the Westin Waterfront for the past two or three years. Located next to (and walkway-connected to) the Boston Convention and Exposition Center (a.k.a. BCEC), the hotel is a manageable-enough two block walk from the World Trade Center stop of the MBTA (Boston Public Transit) "Silver Line" (which, despite the name, is a bus rather than a subway/trolley), which in turn is two subway stops from South Station, where Amtrak and inter-city busses (including Greyhound, Bolt Bus, MegaBus, FungWay, etc.) and some regional transit go. So depending on your perspective -- like whether you're an attendee versus huckster -- the Westin Waterfront is less, more or differently inconvenient than other venues that Arisia, Boskone and ReaderCon have iterated through.

The Westin is apparently somewhat more expensive than the Hyatt in terms of rooms. (I live in the Boston area and have done Arisia as a day commuter.) It, too, has an expensive restaurant -- but it also has affordable-ish food in its pub, lobby bar, and in-house Starbucks, plus they set up sandwich/salad stations in one or two places.

Boskone has tended to squish most of its general activities -- e.g., not only hucksters and art show, but also con "suite," kids areas, demos, some help desk, coat racks, and whatnot into one large downstairs area, for an often crowded, noisy feel. (I'm speaking not just as an attendee, but as someone who's been a program participant in the Fast Track area, which more often than not had too much ambient noise for readings.)

Arisia was big enough to fill this lower-level area just with vendor tables, art show, con bid tables, and a little whatnot, placing con suite, Fast Track ("for children in the 6-12 age range"), Green Room, and some administrative areas elsewhere.

FastTrack was on the 15th floor, in a lovely room large enough to accommodate what seemed to be often several scores of young fans, doing up to four concurrent program items. In addition to the huckster tables in the downstairs, one row of rooms on the 16th floor was Dealer's Row, along with the Con Suite. There was also a dedicated Green Room.

The program schedule was, as in recent years, extensive, covering not discussions of SF but also areas of interest to the SF readers and fans that come to Arisia, e.g., LARPing, board gaming, costuming and masquerade, filking, anime, media, science, technology, alternate lifestyles, comics and graphic novels. (Arisia has increasingly strengthened its traditional programming aspects, and done well by it, BTW.)

I was only at Arisia for Saturday, and spent much of that fulfilling as program participant (doing readings along with Walter Hunt and Felicity Ivy, at, Ghu save us, 9:30AM Saturday -- a sub-optimal time for turnout, plus three events in Fast Track kids area -- a magic show, with ace coin-and-card prestidigitator and author James MacDonald; a reading of some of my Dern Grim Bedtime Tales; and a so-you-want-to-be-a-magician workshop, again with the esteemed Mr. MacDonald). Plus I spent some time browsing the Art Show and Dealers Room down below, and Dealers Alley, poking into the Con Suite and Green Room, and schmoozing with friends as I ran into them -- so I only got to pieces of two or three sessions. As always, the rooms and halls and open areas were full of people who looked like they were having a good time.

I like Arisia. It's full of energy and of enthusiastic, happy people. The hall costumes add a welcome sense of confirmation that this is an SF con, and one that takes having fun and being a fan seriously. The age spread is also reassuring and reaffirming, with boomers (like me) and older alongside teens and recent teens, along with a large FastTrack room full of YAs and tots and other kids. Recommended. See you there in 2012!
---
advertising index / info
Our advertisers make SFRevu possible, and your consideration is appreciated.

<!- Google Adsense Skyscraper --> <!- End Google Adsense Skyscraper -->