<!PHP Block to display review !>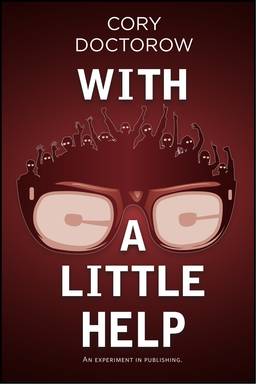 With A Little Help by Cory Doctorow
Cover Artist: Pablo Defendini
Review by Benjamin Wald
CreateSpace Trade Paperback ISBN/ITEM#: 9780557943050
Date: 18 March 2011

Links: Read about the book / Show Official Info /



With a Little Help, Cory Doctorow's latest collection of short fiction, is an experiment in ways for authors to earn a living without going through traditional publishing companies. To this end, Doctorow has explored various routes to making money on this volume, including print-on-demand, a special edition, and even selling the opportunity to determine the plot outline of a story written specially for this collection. While all of this experimentation is fascinating, and worth keeping an eye on for those interested in the future of book publishing, it is of course secondary to the quality of the stories. So how do they measure up? Unsurprisingly, for anyone who has read Doctorow before, the stories are full to bursting of interesting and original ideas. In a few of the stories, the medley of ideas seems to escape their creators control, leading to jumbled plots and somewhat unsatisfying stories. However, in the majority of cases, original ideas are combined with well-drawn characters and powerful writing to create fascinating visions of how technology might shape our future.

One of the things I love about Doctorow's work is that his writing continues the venerable SF tradition of speculating about how technology might transform society. His answers are far from utopian. Two of the strongest stories in the collection, "The things that make me weak and strange get engineered away" and "Scroogled" are about how the combination of ever more interconnected electronic systems with an erosion of privacy laws could lead us gently towards a chillingly totalitarian future. While this is an old worry, as old as 1984, Doctorow gives it a new relevance by using his knowledge of the internet and computer systems to update the idea, and show how it need not require any dramatic coupe or upheaval to bring about this dystopian scenario. "Scroogled" does an excellent job of showing how Google could find itself, without any particular ill-will or nefarious intent, co-opted into a paranoid national security apparatus, and the dire consequences of turning Googles data-mining expertise to this end. "The things that make me weak and Strange", on the other hand, contrasts the benefits we could personally gain from access to more information about ourselves, of the kind that increasing use of computer technology allows, to the harms if this kind of information is used by the state to control us. Both are excellent, thought provoking stories.

It's not all doom and gloom, though. Other stories, such as "The Right Book" and "Other People's Money" suggest how the growing interconnectedness of the world through information technology creates new opportunities for individuality and for creators to flourish by connecting to small niche markets. Doctorow charts both the dangers and the opportunities of the internet age.

Not all of the stories deal as directly as this with the impacts of the internet and computing on society. "Epoch" is a take on the age-old SF trope of artificial intelligence. Doctorow mixes things up a bit by having the AI be threatened with death because it is too boring; being expensive to run, and with no particularly marketable applications. The story is told from the point of view of the sysadmin who runs the AI's computer systems, giving us a more personal perspective on the situation than in most AI stories. Our sympathies are originally with the threatened AI, but its motives become more ambiguous as the story proceeds and the AI resorts to more extreme measures to protect itself, causing increasing unease in the protagonist. Although there isn't anything particularly original in the story, in does a good job of showing us how the fear of AI could take hold, and in providing an AI character who is morally ambiguous, and whose motives we are forced to try to discern on our own.

Other stories deal with attempts to write a constitution for a gaming guild, an advertising firm that attempts to sell products to mega-wealthy immortals who need nothing, and a corporation that travels around in a converted bus wiring Indian reserves with "cognitive radio" systems.

Doctorow writes with energy and conviction, making the reader feel what it would be like to live in the futures he imagines, and occasionally suggesting that the less palatable futures might yet be prevented. Whatever the results of Doctorow's experiments in publishing, this book is an excellent collection from one of the most exciting SF author's writing today.
---
advertising index / info
Our advertisers make SFRevu possible, and your consideration is appreciated.

<!- Google Adsense Skyscraper --> <!- End Google Adsense Skyscraper -->