<!PHP Block to display review !>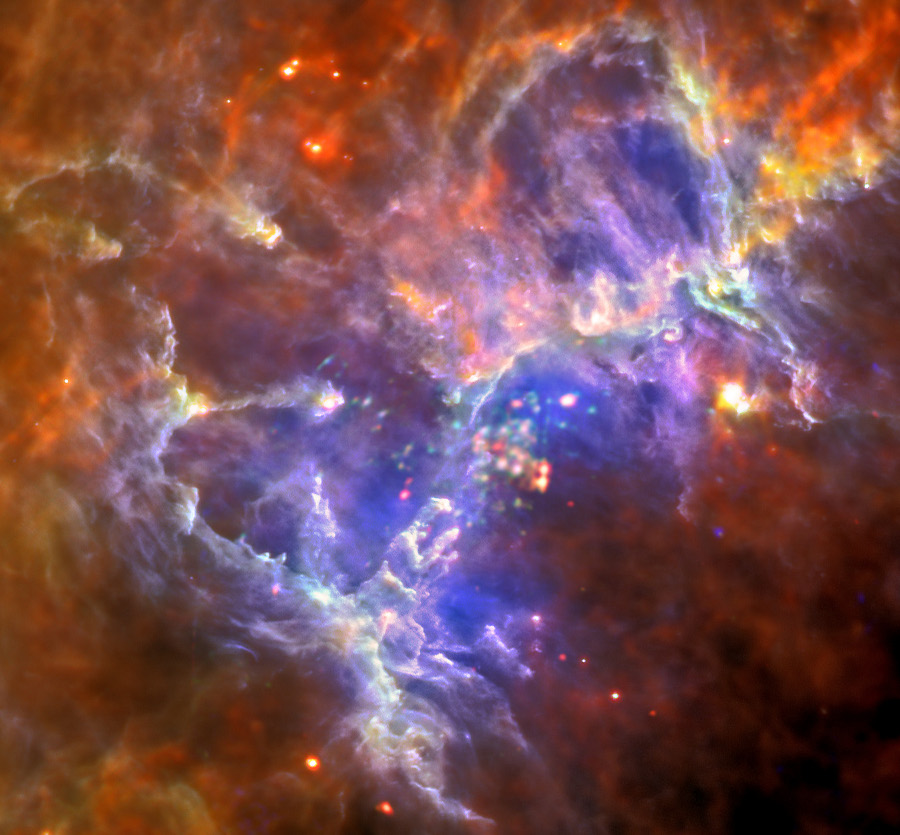 Editorial Matters - March 2012 by Gayle Surrette
Review by Gayle Surrette
SFRevu.com *Editorial
Date: 29 February 2012

Links: Gayle's Blog /

Photo: Inside the Eagle Nebula. Credit: Far-infrared: ESA/Herschel/PACS/SPIRE/Hill, Motte, HOBYS Key Programme Consortium; X-ray: ESA/XMM-Newton/EPIC/XMM-Newton-SOC/Boulanger. Explanation: In 1995, a now famous picture from the Hubble Space Telescope featured Pillars of Creation, star forming columns of cold gas and dust light-years long inside M16, the Eagle Nebula. This remarkable false-color composite image revisits the nearby stellar nursery with image data from the orbiting Herschel Space Observatory and XMM-Newton telescopes.

Welcome to our March issue. Sitting in our office with the rain pounding on the windows it seems that March has decided to come in like a lion, so maybe it will go out like a lamb. Whatever happens this month with the weather, we hope that you'll find our reviews helpful in finding just the right book or magazine to read. Sam Tomaino has covered short fiction in print and online in his column. John Berlyne covers the book available this month in the UK in his column. Daniel Dern reports on Boskone. We also have our usual compliment of reviews where hopefully, you'll find something of interest.

Remember that we continually add items to our News column, so check back often. We also have a convention calendar. If your convention or conference is not listed, send us the necessary information to add it to our column (see our Announcements section).

It often seems that there's never enough time to read all the stories that sound interesting to me and I'm sure many of you have the same problem. So, I have a question for our readers.
How do you make time for reading?
* less TV
* always have a book handy for waiting in line, etc.
* commuting to work
* something else...
Let us know and we'll let you know next month how our readers carve out time to read from their busy schedules.

Now for our regular announcements:

Reviewers Wanted:
While we're happy to have a core of great reviewers for SFRevu, we get more books each month than we've got readers for and we'd like to have more. If you have a great desire to review SF/Fantasy for no pay but the glory of a byline, write to us at editor (at) sfrevu.com telling us a bit about yourself and send a 500 word (or so) review of a book that you have recently read. We should be able to get back to you within the month. (Please let us know what country you reside in -- the cost of mailing books outside the US/Canada may be an issue.)

News Column:
We started a News column last month. If you have a news item or announcement that you think would be of interest to readers of SF, send to: editor (at) sfrevu.com.

Convention Calendar:
We'd like to add a convention calendar to our magazine. We've made a start. However, we don't have time to scour the Internet looking for what's happening in the SF/Fantasy arena. Please send us your convention listings. Send to: editor (at) sfrevu.com.

Letters to the Editor(s):
We'd like to hear from you ... yes, you. What do you think of our magazine? How could we make it better? Do you like our reviews? What are your thoughts on the SF and Fantasy and their subgenres? Write to us at editor (at) sfrevu.com.

Publishers Take Note:
Material sent to us will be listed in our books-received column and may also be commented on or reviewed. With few exceptions, material not sent will not be listed or reviewed. Please send materials to SFRevu c/o Gayle Surrette, 16440 Baden Westwood Road, Brandywine, MD 20613. Or if you publish in the UK or Europe send to: John Berlyne c/o SFRevu, 27 Clarence Gardens, London, NW1 3LH, United Kingdom

Media People Take Note:
It's rather difficult to review newly released DVDs or other media when we don't get a copy. So, if you'd like us to review something, send material to SFRevu c/o Gayle Surrette, 16440 Baden Westwood Road, Brandywine, MD 20613. Media publishers in the UK or Europe send to: John Berlyne c/o SFRevu, 27 Clarence Gardens, London, NW1 3LH, United Kingdom
---