<!PHP Block to display review !>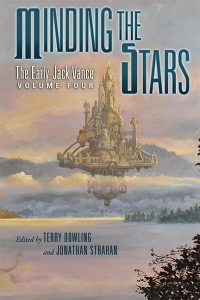 Minding the Stars: The Early Jack Vance, Vol. 4 by Jack Vance
Edited by Terry Dowling and Jonathan Strahan
Cover Artist: Tom Kidd
Review by Steve Sawicki
Subterranean Press Hardcover Lettered/Trade ISBN/ITEM#: 9781596066458
Date: 01 March 2014

Links: Author's Website / Publisher's Book Page / Show Official Info /



In this, the fourth volume of The Early Jack Vance series, material covered ranges from 1952 through 1967. Most of it is as readable today as it was then although occasionally a story's age shines through. There are eight stories here, along with an introduction from Terry Dowling and Jonathan Strahan. Each piece captures Vance's thoughtful elegance of using words to explore the human condition. Perhaps the most difficult story to read is "Meet Miss Universe", written in 1955 and very reflective of the way the world viewed women. The remaining stories are less dated and troublesome.

As he was wont, Vance often studied humanity through the lens of the alien and behavior through the view of the other. He often used a dark wit to point out situations or histories that involved shame or actions less than noble while pushing his protagonists to reach their goal while maintaining some set of values.

Vance had a long career as a writer and he maintained a more than casual acquaintance with the paranormal. This often rises up in many of his stories as PSI abilities and often manifests as those things which are unfathomable with knowledge available. He set aside belief that there were things out there that we did not yet know about. This drove a lot of his plotting and story telling. To say that Vance was no ordinary writer is to short change the vast array of fiction he left behind.

Subterranean Press is doing us all a great favor by collecting Vance's work. My only regret is that I am working off of Advance Uncorrected Proofs and don't actually get to see the finished hardcovers.

I'd like to say Vance's stories are timeless, but they are not. Many are dated and clearly written in an earlier period. But, as a reference to the author's work they are priceless and as views through the window of what was to come they are interesting precedents. Particularly in the way that Vance used language and dialogue, these stories bear the seeds that will soon blossom into the full length novels that he spent most of his later years writing.

Highly recommended if you are a Vance fan or just want to get a glimpse into what short fiction was like in the period of the late pulps/early magazines.
---