<!PHP Block to display review !>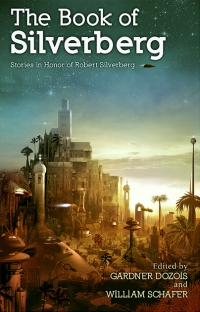 The Book of Silverberg
Edited by Gardner Dozois and William Schafer
Cover Artist: Tomasz Maronski
Review by Benjamin Wald
Subterranean Press Limited / Trade ISBN/ITEM#: 9781596066434
Date: 01 April 2014

Links: Publisher's Book Page / Show Official Info /



Robert Silverberg has been producing some of the most consistently excellent science fiction in the genre for decades. In a well deserved tribute, The Book of Silverberg features stories by authors influenced by Silverberg, and give them a chance to respond to the works of his that have touched them. Most of the stories either play off of themes in Silverberg's work, or explicitly continue stories that he wrote. The line up of authors is first rate, and they deliver some excellent stories. Fans of Silverberg in particular will enjoy seeing new takes on his classic stories.

Kristine Kathryn Rusch's story follows up on Dying Inside, Silverberg's story of a psychic who is slowly losing his powers. A new psychic protagonist provides a new lens on how the ability to know what others think might effect someone's life. The rise of the internet and its mix of information and isolation provides a new twist on Silverberg's tale of self-imposed alienation. Rusch's characterization is not up to the standards of the original, but the story is well done and provides a new take on the material.

Caitlyn R. Kiernan provides one of the strongest stories in the collection, visiting the rich and imaginative world that Silverberg explored in "Nightwings". Kiernan's writing is evocative and she captures the feeling of the far future world perfectly. The story does not overlap with the one told in "Nightfliers", but it manages to capture the feel and themes of the original.

James Patrick Kelly contributes a story entitled "The Chimp of the Popes", and the story not only inverts the title of Sliverberg's "The Pope of the Chimps", but cleverly inverts its premise as well. Instead of a group of chimps being studied by humans and developing religion, we have a group of chimps that are tasked with looking after the remnants of humanity after most have had their minds translated into the "cognisphere". It's an excellent story, and Kelly does an impressive job of making his chimp characters sympathetic, relatable, and yet clearly non-human.

Not all of the stories were as strong. Connie Willis's story, which posits that Silverberg may in fact be Satan in virtue of his skill, charm, and sartorial panache, is a charming homage to Silverberg, but not much of a story. Mike Resnicks follow up to Silverberg's "Good news from the Vatican" is overly preachy and sentimental, missing the subtlety of characterization that informs Silverberg's work.

These disappointments are few and far between, however. The collection as a whole is an enjoyable opportunity to revisit some of Silverberg's creations, and to see how he has influenced a generation of new writers. Reading this collection has made me want to go and read more Silverberg, and that is never a bad thing.
---
advertising index / info
Our advertisers make SFRevu possible, and your consideration is appreciated.

<!- Google Adsense Skyscraper --> <!- End Google Adsense Skyscraper -->