<!PHP Block to display review !>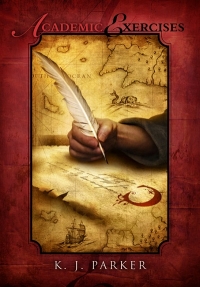 Academic Exercises by K.J. Parker
Cover Artist: Vincent Chong
Review by Benjamin Wald
Subterranean Press Deluxe Hardcover ISBN/ITEM#: 9781596066090
Date: 31 July 2014

Links: Author's Website / Publisher's Book Page / Show Official Info /



Academic Exercises collects the short fiction of fantasy author K.J. Parker. Parker's fantasy novels are among the most exciting things happening in fantasy today. Expertly plotted, engagingly written, full of wonderfully authentic details about everything from siege warfare to blacksmithing to fencing, and peopled by a cast of rich, detailed characters who you immediately identify with even as they careen helplessly towards self-destruction via webs of bitter enmity, love, rivalry, friendship, and sometimes all at once.

Parker's short fiction, on the other hand, is if anything even better. Somehow, all of the intricate plotting and fantastic characterization that was a surprise to see fit into 500 pages is fit into 50 pages. The stories are usually on the long side, most of them are close to novella length, but Parker fits a novel's worth of material into each one. Every fantasy fan should be reading Parker, and this collection is an excellent place to start. If you are already a fan, you already know that you need this collection--it measures up to the novels and then some.

The collection contains 10 stories, and like any collection, these vary somewhat in quality. In Parker's case, this means that some are merely excellent, while others are true masterpieces. "One Little Room an Everywhere" is a fairly standard tale of magic and unintended consequences, to which Parker brings psychological verisimilitude and some wry observations on fame and human avarice. "A Room with a View" is an interesting story of the relationship between a man and his long dead father, enlivened with some very effective notes of horror.

The best stories in the collection are easily among the best fantasy stories being publishes anywhere. "Purple and Black" is an epistolary tale that deals with betrayal, idealism, and the corruptions of power. It combines believable military strategy and several genuinely surprising plot twists with a deeply complex relationship between a group of friends who seek to make the world a better place.

"A Small Price to Pay for Birdsong" is so multi-layered as to be impossible to do justice to in a short description. It deals with musical composition rather than the more martial themes of some of the other stories. Parker proves that musical rivalry can be as bloody and cruel as any military struggle.

Along with the short stories, the collection also features three non-fiction essays by Parker, detailing the history, technology, and social consequences of three different elements of war: siege warfare, armor, and swords. Each of these essays not only provides in depth and fascinating historical details, they each focus on the social meaning and consequences of their subject. For example, the discussion of armor relates the design of armor to the different social functions war has served from the ancient Greeks, who designed their style of conflict to settle disputes quickly and without excess causalities, to the Germanic and Scandinavian tribes who used combat as a means of personal glory to justify their place in the social hierarchy, to the Romans, who used war to establish an empire.

K.J. Parker brings unparalleled psychological depth to fantasy writing, and combines it with a compulsively readable style and ingenious plots. I cannot recommend this collection highly enough, and I eagerly await Parker's next work, whatever length it is at.
---
advertising index / info
Our advertisers make SFRevu possible, and your consideration is appreciated.

<!- Google Adsense Skyscraper --> <!- End Google Adsense Skyscraper -->