<!PHP Block to display review !>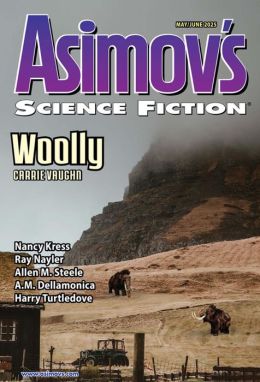 Asimov's Science Fiction – March 2014 – Vol. 38 No. 3 – (Whole Number 458)
Edited by Sheila Williams
Review by Sam Tomaino
Asimov's Magazine ISBN/ITEM#: 1065-2698
Date: 26 January 2014

Links: Asimov's Science Fiction / How to Subscribe / Pub Info / Table of Contents /

The March 2014 issue of Asimov's Science Fiction has stories by Sean Monaghan, Cat Rambo, James Patrick Kelly, Ken Liu and Mike Resnick, Peter Wood, Jay O'Connell, Genevieve Williams, and Dominica Phetteplace, along with the usual poetry and columns.

Asimov's Science Fiction March issue is here and it's a pretty good one.

The fiction begins with "The Plantimal" by Ken Liu and Mike Resnick -+- Our narrator is a man over 100-years-old who has moved with his wife, Cheryl, to a space station where it is easier for them to live. Sixty years ago, his wife gave birth to a son who was anencephalic, having no brain function. At Cheryl's insistence, they had fought to keep the child hooked up to a breathing tube but they had lost. On the station, they had bought a "plantimal", a plant that seems like an animal, but isn't. This one imitates the life forms around it. Yes, it begins to look like a human. Some may consider this very obvious but it has what I usually find in a Resnick story. Heart. And that's all I ask for.

"Drink in a Small Town" by Peter Wood -+- Wallace stops in a bar in Georgia to watch the Mars Expedition land. He runs into a very different bartender. Nice little short-short.

"Walking Gear" by Sean Monaghan -+- Den has been out of touch with his half-sister, Jenni. Her life has descended into drugs and prostitution. The drugs have caused her to lose part of a leg. Den has been doing well and wants to get Jenni into a experimental program which can restore her leg using alien technology (which is not explained). With the help of Den's friend Melissa, he gets her a new leg and more. Now all three of them have to figure out the rest of their lives. Good story that gets you to care about the people in it.

"Solomon's Little Sister" by Jay O'Connell -+- This takes place in some future after something called the "Nanocaypse". Something called the Zeitgeist archived people and some of them walk around in whatever this world is. Our narrator' sister has left her husband who was cheating on her. She keeps killing his bodies which becomes very tedious. Our narrator tries to resolve things. Not enough detail here to get a real sense of this world.

"The Redemption of Kip Banjeree" by Genevieve Williams -+- Kip is a teenage "freerunner" of the next century. She can run though a city with many fancy maneuvers. A prestigious company gives her a job delivering something. Kip has to outrun a talented pursuer. The end of this was a bit obvious, but the story was fun anyway.

"All the Pretty Little Mermaids" by Cat Rambo -+- Petra Mookjai has recently divorced her husband, Leonid, but he has a gift for their daughter. His company has created tiny life forms, not even animals, that look like Disney-style mermaids. Petra's life as an artist is not going well and she spends time thinking about old feminist issues, but the mermaids fascinate her. This one gets very dark but is a very effective little story.

"Through Portal" by Dominica Phetteplace -+- Cail and Akhtar are having a picnic on Omega-Alpha-III with their eight-year-old daughter, Emmy, and somehow these idiots don't notice that Emmy has walked away until she has walked pretty far. Cail chases after her but does not catch up to her before she walks through a time portal that happens to be nearby. This story lost me right there. Cail does not follow her because she might already be dead. I could not accept this and what follows, with multiple Emmys winding up thousands of years in the past of the planet did not interest me.

"Declaration" by James Patrick Kelly -+- This takes place in a near-future in which people spend much of their time in virtual reality. Young people, who are the focus if this story are required to spend some time in the real world. Johanna, who calls herself Remeny in virtual space, is working with others on a school project. They uses this project as a sort of Declaration of Independence for the virtual world. Not convinced that all this would really work but the characters are well-drawn.
---
advertising index / info
Our advertisers make SFRevu possible, and your consideration is appreciated.

<!- Google Adsense Skyscraper --> <!- End Google Adsense Skyscraper -->