<!PHP Block to display review !>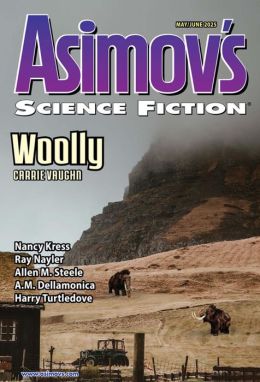 Asimov's Science Fiction – April/May 2014 – Vol. 38 No. 4&5 – (Whole Number 459&460)
Edited by Sheila Williams
Cover Artist: Paul Youll
Review by Sam Tomaino
Asimov's Science Fiction ISBN/ITEM#: 1065-2698
Date: 26 February 2014

Links: Asimov's Science Fiction / How to Subscribe / Pub Info / Table of Contents /

The April/May 2014 issue of Asimov's Science Fiction has stories by William Preston, Robert Reed, Michael Swanwick, Matthew Johnson, Will McIntosh, Fran Wilde, M. Bennardo, K.J. Zimring, J.M. McDermott, and James Patrick Kelly, along with the usual poetry and columns.

Asimov's Science Fiction April/May issue is here and it's a pretty good one!

The fiction begins with the novella "Each in His Prison, Thinking of the Key" by William Preston -+- This is a sequel to "Helping Them Take the Old Man Down" from the March 2010 issue. Our lead character here is Lieutenant Jimmy Randolph is part of Army Intelligence and had been called in to study an old man they have had under lock and key for four years. He is reminiscent of a pulp hero from the 30s and 40s called the Stone Avenger. Jimmy studies the man, calling him Methuselah, from outside his cell and discovers some wondrous things This should not surprise us as "Methuselah" is clearly based on a certain Man of Bronze. This is part of a continuing tale about what it would be like if such a man existed in the present day. I thoroughly enjoyed the previous story and like this one, too.

"Scout" by Will McIntosh
Kai is a fourteen-year-old boy, a refugee from Richmond which had been taken by invading aliens called the Luyten. The Luyten are winning helped by their ability to read minds. Finding shelter, Kai is contacted, in his mind, by a Luyten who had crashed, not a soldier but a scout. Should Kai help "Scout". Interesting question which is left open. I would point out that the job of "just a scout" is to help soldiers kill people.

"Like a Wasp to the Tongue" by Fran Wilde -+- Rios is a doctor on planet E-17, serving a bad group of briggers (military convicts) digging up heavy metals before colonists arrive. Specially designed wasps are used to detect the metals. But Lefevre, one of the worst briggers likes to make bets with the others on how long they can hold the wasps on their tongue. This involves treating them a lot with epi sticks and the like. She notices welts on one of them that have nothing to do with the wasps. Further discoveries show corporate malfeasance which will leave all of them dead. Rios figures out a treatment but must win over Lefevre and the others. Good solid story.

"Of Finest Scarlet Was Her Gown" by Michael Swanwick -+- Su-yin follows her father to Hell with the hope of rescuing him. She stays in Hell and so annoys the Devil that she offers Su-yin a deal. She must go out on dates every night for a year and, if she can remain a virgin, her father can leave Hell with her. Otherwise, she leaves by herself. This all makes for a wild story and a very good ending, the kind we expect from Swanwick.

"Slowly Upward, the Coelacanth" by M. Bennardo -+- Our lead character starts out as a coelacanth, but winds up taking other forms, newt, turtle, parrot. To say more would spoil a very imaginative story.

"Rules of Engagement" by Matthew Johnson -+- This is the story of three soldiers that had served in a near-future war in Yemen. Like all soldiers at the time, they had been given implants to keep a control on their behavior so they did not kill innocent people. But one incident and several other factors have an effect on them. leading to a shattering conclusion. Good, solid story.

"The Talking Cure" by K.J. Zimring -+- Our narrator is a man who lived in Vienna during World War II as a boy. He had always thought he was autistic but had spoken when he needed to, otherwise he would have been killed by the Nazis. A tech from Sotheby's has a device that can access his memories. They are important, not because of his personal history, but because he had visited the offices of Sigmund Freud and might be able to verify of a certain painting was hanging on Freud's office wall. What our narrator learns is more important. Well done, interesting look at the Nazi era.

"Dolores, Big and Strong" by J.M. McDermott -+- Our narrator's name is June Jiminez Nguyen, called Junebug or Jujube when she was a girl. She is telling about that time when she lived with her mother and step-grandmother (who had been married to her real grandmother). Her step-grandmother's name was Dolores and June has a shunt in her arm so she can give her blood to Dolores every night. They both have a rare blood type called Duffy and her blood is staving off the progress of Parkinson's and Alzheimer's in Dolores. There is also Petey, four years older than June, who regularly delivers cheaper non-prescription marijuana to Dolores. They live on a farm and raise goats which June hates. She hates most of her life and the story is a pretty grim one. It's well-told, though, and the main characters really come through.

"Someday" by James Patrick Kelly -+- Daya lives in a small town on some long established colony planet. She has finally decided who would be the fathers of her baby, all three of them. Somehow the sperm of all three men will combine. This may have to do with the meal that she cooks called the "love feast". No one knows what she has planned for the future which comes as a bit of a surprise at story's end. Fairly good story.

The fiction concludes with the other novella, "The Principles" by Robert Reed -+- This is part of a "giant alternate-history novel" that reed is writing His protagonist is named Quentin Maurus and, here is a young man fresh out of college. We get some details about this world. Christ was female and Christianity and Western culture are very different. There has been a war ranging for 1300 years and mandatory service for all males for 10 years. Quentin is exempt because he is the son of a Hero, one presumes a dead one. He becomes involved with Sandra West, a college professor who is a political dissident and whose son is a draft dodger. The story is well-written as everything Reed does and whets our appetite for more.
---
advertising index / info
Our advertisers make SFRevu possible, and your consideration is appreciated.

<!- Google Adsense Skyscraper --> <!- End Google Adsense Skyscraper -->