<!PHP Block to display review !>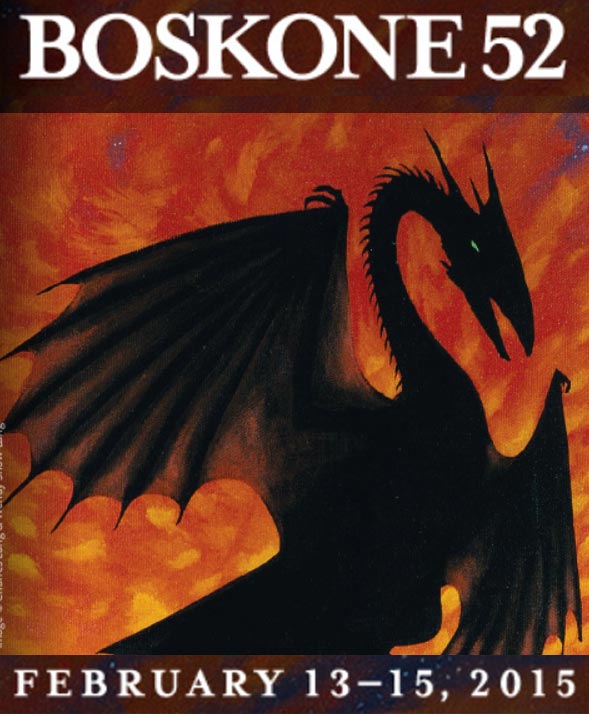 Boskone 52 - Feb. 13 - 15, 2015 - Boston, MA
Review by Daniel Dern
Boskone
Date: 13 February 2015

Links: Convention Website / Show Official Info /



Report from Boskone 52, February 13-15, 2015: The Year The City Shut Down Its Public Transit

Winter is always an iffy, unpredictable time for Boston-area sf conventions, weather-wise, notably for January's Arisia and February's Boskone. Even for those of us who live here, getting to and fro can be daunting enough that staying in the hotel isn't just for indulgence or convenience.

Boskone 52, held Friday February 13 through Sunday February 15, 2015 at the Westin Seaport Hotel (where Arisia has also been, for the past several years), was double-whammied, not just by weather, but by pro-active/pre-emptive shut-down of Boston's MBTA public-transit system (a.k.a. the "T"). (I had hotel reservations for Friday night through Sunday morning, but since had taken the T to the hotel, and was planning to get home the same way, we only Boskone'd until late Saturday afternoon. I'm tempted to call what I went to "Bosk--".

The Guests for Boskone 52 consisted of:
Steven Brust, Guest of Honor
Charles Lang and Wendy Snow-Lang, Official Artists
Maya and Jeff Bohnhoff, Featured Filkers
Robert K. Wiener, Special Guest
David L. Clements, Science Speaker
Vincent Di Fate, NESFA Guest.
Scheduled participants (weather kept some from attending) included a mix of, per the Boskone website " writers, artists, editors, publishers, musicians, scientists, gamers, bloggers, conrunners, reenactors, and fanzine editors" and others, like Elizabeth Bear, Ginjer Buchanon, John Chu, Mike Cole, Guy Consolmagno, Bruce Coville, Vincent Docherty, Andrea Hairston, David G. Hartwell, James Patrick Kelly, Mur Lafferty, Patrick and Teresa Nielsen Hayden, Ada Palmer, Allen M. Steele, Charles Stross, Michael Swanwick, Carrie Vaughn, Jo Walton, Jane Yolen... you get the idea. A lot of interesting folks, to say the least.

This year, Boskone started a few hours early, with panels free to the public from 2:00-6:00PM on Friday -- a good way to help bring in new blood. (I know that Readercon has been doing this, on the Thursday evening before the normal Friday start; I don't know if other cons have been doing this, but I assume many are.)

While, as I noted at the top, I wasn't there for more than about half of the con, what I was there for was good -- fun interesting panels, and good schmoozing, e.g.
Art show. The art was diverse and good, with some names I recognized, some new to me. More notably, there was lots of classic SF art on display -- on loan, not for sale. Fabulous stuff, many that I recognized from book covers. (Sorry, I didn't think to make a list of names, and I don't see a list posted.
Programs. I love going to readings -- sadly, I arrived too late for Jane Yolen's, and left too soon for Bruce Coville's, but at least I got to Michael Swanwick's. Interesting panels, including "The Other"; "The Wonderful Worlds within Middle Grade Fiction", with Ken Altabef, A.C.E. Bauer, Stacey Friedberg, Jane Yolen, and Matthew London; and an instructive workshop, "Reading Your Own Work Out Loud", led by Bob Kuhn, Kate Baker, Justine Graykin, Bruce Coville, on how to read your work aloud. Plus, although I hadn't been on the original program, weather/travel openings opened up a slot for me to do a half-hour reading (some of my flash-length "Dern Grim Bedtime Tales" plus a brand-new story, "Dear Unhappy Galactic Overlord"), along with, in DragonsLair (kids programming), my more-or-less traditional magic show (I'm a dedicated amateur... with a Cthulhu/bunny) and reading (again, "Dern Grim Bedtime Tales" and others).
Dealers Room. The weather kept some dealers from attending. As usual, lots of new and used books, along with magazines, games, costume accessorizing, and more to choose from. I confess I only bought a few books, since we're trying for zero-or-negative book growth at home...
Parties. Helsinki! Spokane!
Sundries. Mark and Priscilla Olson continue to do their 10PM Friday Night SF Trivia content, where points (green chocolate mints) as point counters go to the first to yell the right answer out. Questions range from SF's earliest days to the current day, so younger fans (and others reading the newest stuff) may -- and this year did -- do well in the ratings. I'm a regular contestant, and while there's lots and lots of questions I have no clue about, I often come in within the top five, including being #5 this year.
Plus schmoozing, which is always fun. And chocolate treats, one of NESFA's event hallmarks.

Things I missed, due to having to head out Saturday late afternoon: Boskone at the Improv. The NESFA Awards. (Congrats to Moshe Feder on his Skylark!) Kaffeeklatches, more great readings and panels.

Request for next year: less snow, and keep public transit open. (And more eateries in the hotel or in the adjacent Boston Convention & Exposition Center.)
---
advertising index / info
Our advertisers make SFRevu possible, and your consideration is appreciated.

<!- Google Adsense Skyscraper --> <!- End Google Adsense Skyscraper -->