<!PHP Block to display review !>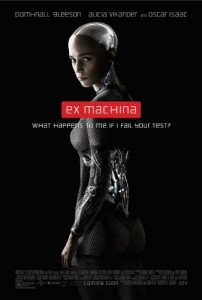 Ex Machina by Director: Alex Garland; Witer: Alex Garland
Review by Ernest Lilley
A24 ISBN/ITEM#: tt0470752
Date: 22 April 2015

Links: IMDB Entry / Movie Trailer / Show Official Info /



<! Table with Quote !>

Ex Machina

Director: Alex Garland
Writer: Alex Garland
Studio: A24
CAST:
Domhnall Gleeson / Corey Johnson / Oscar Isaac / Alicia Vikander / Sonoya Mizuno / Claire Selby / Symara A. Templeman / Gana Bayarsaikhan / Tiffany Pisani / Elina Alminas / Chelsea Li / Ramzan Miah / Caitlin Morton / Deborah Rosan / Johanna Thea / Evie Wray

In Ex Machina, Caleb (Domhnall Gleeson), a twenty-something programmer who works for Bluebook, the world's dominant search engine company, wins a week at the remote estate of the company's CEO, hanging out and male bonding, or something. Sounds like the perfect setting for a horror movie, doesn't it? He should be so lucky.

Nathan (Oscar Isaac), is a monomaniacal asshole and <!==, you know, like that social media CEO guy from the company that ends in the same word as Bluebook, except that ==> his two main pastimes seem to be beating a punching bag into submission and drinking himself into a stupor. So just hanging would be stressful enough.

But Caleb isn't really there to hang out and share endless beers with his bro boss. He hasn't even really won a contest (spoiler, sorry about that). He's here so Nathan can can get his take on the next big thing. Hot robot chicks. Fully-functional hot robot chicks.

Caleb's a nice boy, and that's really why he was chosen, which seems like a pretty stupid criteria. He's too polite to call his boss on being an arrogant asshole. He's too nice to hurt the cute robot's feelings, especially when it's playing him by acting shy and helpless. So what's the test? Can you get a lonely nerd, selected because he has no family, no girlfriend, and a good moral compass, to accept a cyborg with a pretty synthi-flesh face and a glowing blue pelvis as human?

We know from the outset that she's not human. She's a robot, dammit. So we're really asking something else, like can Caleb accept her as a person. The problem is that Caleb wcould accept a dog as a person if it would only lick his hand. Forget asking if Ava (Alicia Vikander) is a person. Ask if Caleb has free will. Just don't put money on it.

This is highbrow stuff. We know because it looks like something Stanley Kubrick would have filmed, full of sterile interiors and stark scene titles between each of Caleb's encounters with Ava. Weird music underscores the alienness of it all and Nathan watches the proceedings through cameras that see everywhere. You almost expect Caleb and Ava to get caught plotting together by lip-reading their dialog in an escape pod. Actually, the movie very nearly does just that.

Of course, coming off like Kubrick is no mean feat, and both the casting and acting are first rate. Director Alex Garland's choice of Alicia Vikander was inspired, as her training at at the Royal Swedish Ballet School gave her the ability to provide a stellar physical performance as the fembot. Ms. Vikander managed to combine the deliberateness that is the classic definition of robotic motion with the fluidity and gracefulness that it will surely become. The resulting movement is beautiful, but not quite human Her acting is equally up to the challenge of the role.

In fact, the acting is very good throughout. If there is a fault, it lies not in the stars, but in their scripts.

There's some good science in the mix too. The notion of using the massive data collection capability to create a model of human behavior is thought provoking, forcing us to ask whether Ava is operating by emulation or simulation (Links). Caleb might have helped us explore that question as he tries to talk science to Nathan, but the audience will breathe a sigh of relief when his boss shuts him down, telling him that he wants to know what Caleb feels, not what he thinks.

All in all, it feels more like Nathan is conducting a focus group than a Turing test. That Ava can pass for human, especially after she slathers on pseudo-skin and a modest dress, is a foregone conclusion. In fact, the point of the exercise is the weak link in this film. Caleb and Ava have been selected and created respectively to complement each other, which seems like unnecessary stacking of the deck. Ava has Caleb convinced the moment she shyly looks away from him, and when he challenges Nathan on the choice of a female form as cheating, Nathan defends his choice by saying that gender and sexuality are part of being more than machine. He might well have been quoting Cole Porter:
And thatís why birds do it
Bees do it
Even educated fleas do it
Let's do it, let's fall in love(link)
There's a lot of biblical stuff woven in here, starting with the character names, which makes it clear that on at least one level, this isn't abut robots at all, but about people. Ava doesn't steal knowledge from her creator, and may not turn out to be the ideal mate, but she's no angel either. Though Nathan's explanation of the choice of her sexuality is appealing, it's equally likely that what's really going on is more about misogyny than synergy.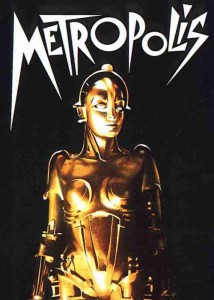 Ex Machina covers a lot of territory in its 108 minutes, but it's hard to believe that the Turing test is its raison d'Ítre. In fact, most of the movie seems like prologue for the climax, just there to keep us engaged long enough for the director to deliver the punch line.
In the end, killer alien chicks and killer robot chicks turn out to be sisters under the skin, and you have to ask whether this is intelligent science fiction about alienation (seen through the eyes of an alien), or what it means to be human (from the viewpoint of a robot), or if the love child of Stanley Kubrick and Russ Myers has emerged from a test tube in some demented scientistís lab to wreak havoc on us all.
Mainstream critics may try to tell you that nothing like this has ever been done before, but that slights Ava's AI bloodline, which stretches back through movie history through the unquestionably human HAL-9000 to the robotic MARIA of Fritz Langís Metropolis, and a host of androids, AIs and cyborgs in between. What Ava brings to the table isn't how like a person she seems, but how deep the resemblance actually goes. Then again, there are all sorts of people.
Links / References
---
advertising index / info
Our advertisers make SFRevu possible, and your consideration is appreciated.

<!- Google Adsense Skyscraper --> <!- End Google Adsense Skyscraper -->