<!PHP Block to display review !>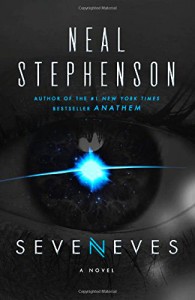 Seveneves by Neal Stephenson
Review by Ernest Lilley
William Morrow Hardcover ISBN/ITEM#: 9780062190376
Date: 19 May 2015 List Price $35.00 Amazon US / Amazon UK

Links: Author's Website / Show Official Info /

In just under 900 pages Neal Stephenson takes humanity to the brink of extinction and back again in a story that stretches from the day after tomorrow to five thousand years hence. At the outset, the moon is shattered by something, possibly an errant black hole, and breaks up into seven pieces. At first it seems like that could be the end of it, but then seven becomes eight, and the process begins to accelerate exponentially as the number of fragments and collisions increase. What was bizarre but benign, now starts a countdown to the end of all life on the surface of the planet, ending in a hard rain of meteorites that will last for millennia. For reasons that I'm sure make perfect sense, the doomsday clock is set at two years, and humanity's hopes for survival rest on an effort to colonize LEO using the ISS as an ops center. If you like space science junkie, you'll love Seveneves.

There are three books in Seveneves, each corresponding to a different phase of the apocalypse. In Book One we get ready for the end of the world by creating a fleet of arklets that will swarm around the International Space Station, which has, in the time between now and whenever the book starts, acquired a small asteroid parked at one end, and is affectionately known as "Issy". The crew in orbit when the moon breaks up winds up being the center of humanity's bid for survival and the nucleus for everything that will come after.

Book Two starts with the end of everything below and chronicles the fight for survival in space. Despite the massive effort put into creating the arklet swarm, and populating it with nearly two thousand young people chosen from towns and villages across the globe, two per town, the math doesn't quite add up, and to some it looks like a colossal PR stunt designed to keep the terrestrial population calm until the end. While that may be the goal of government, private space entrepreneurs don't give up so easy, and the head of the asteroid mining firm that docked the big rock at the end of Issy mounts a mission to capture a comet fragment that they can mine for the ice the swarm is going to need to create propellant and move to a higher orbit where they can survive.

Killing off four or five billion on Earth is one thing. First of all, it's been in the cards since the beginning of the book, and they go down with a fair bit of grace for the most part. During the second book, it becomes something of a nail-biter watching the human capital in space get used up, which actually lends more authenticity to the book than all the carefully exposed space science. By the time the second book winds down, we discover what the title means.

Book Three isn't really book three at all, it's really more of an epilogue, which is something of a pity, as it's got a more engaging cast than the grim astronauts of the earlier sections. No one reading the Seveneves will yearn to be cooped up in an arklet watching the Earth die below them...but living in the new future, exploring the New Earth, that's exciting, and besides, it kicks off in a bar. Set five thousand years in the future, the meteoric rain has ended, and the now populous descendants of the original survivors have mastered space operations handily. There's little question but that they could stay aloft in their habitats, but they feel a compulsion to re-terraform the planet, so they bombard it with comets until it's wet again, seed it with algae until the air is breathable, and carefully work to recreate the biosphere from genetic data stored in computers.

I'm leaving a tremendous amount out, and not just the cast of characters, which actually have a pretty decent storyline, but you'll need to discover that for yourselves. Ironically, but really not too surprisingly, the third book stops short at the end, leaving you to wonder if Neal ran out of time. It winds up its story arc fairly well, but leaves things pretty open for what comes next. In a lot of ways Book Three offers the best fiction of the lot, as we watch a team of representatives from the spacer community investigate strange sightings on the surface. The ultimate reveal comes as no surprise to anyone who's been following the story, but it serves as the final act for what could have been the setup for another few hundred pages, and I'd have liked it if the book had been split after Book Two and the after-survival civilization explored a bit more.

I just got through criticizing Charles Gannon for putting too much telling rather than doing in his book, Trial by Fire, so I feel a bit guilty praising Stephenson for the orgy of exposition in Seveneves. You could easily cut this book in half without losing any of the plot, but explaining detail is at the core of the author's work. I call it the British Engineering School of Science Fiction, started by Clarke and carried on today by Stephen Baxter. Characters exist solely to clothe with the where, what, why, and how, and readers understand this going in. Much of the first two books technology comes out of research that the author did for Blue Origin, Amazon founder Jeff Bezos' space exploration company, and the story exists largely to give the author a forum to show it off.

Which is fine, by us, because it's worth looking at. The story offers us a ringside view of the near future of what's possible in space science, even if the sky doesn't start falling, and the third book gives us a window into what we might accomplish in space if we survive our teething pains.

Though the first two books are almost dismal enough to have been written by Stephen Baxter,  Stephenson's optimism comes through in the end. As usual, it's more of a romp through the authors ideas than a character driven piece, but that's to be expected. I'm very happy to see him use the bolo technique of spinning two spacecraft on a tether to create simulated gravity. It always seemed like a no-brainer to me, and I still don't know why we don't do it today. I do have a slightly evil wish to see Neal Stephenson grilled by Neal deGrasse Tyson on the finer points of space science. They're both great showmen after all and I think it would just be a lot of fun. Maybe I should set up a Kickstart fund to make it happen.

Seveneves is another in the author's series of phonically misleading titles, but you'll get it soon enough. For extra points, notice that it's a palindrome.

If you like the author's other works, or those of hard planetary SF authors like Kim Stanley Robinson,  Charles Stross, or Ben Bova, you'll like this, though he's more than a tad dryer than the others. If you're not already a fan, you'll probably need to be pretty interested in asteroid mining, space operations, genetics, and the end of the world, but that's still a pretty fair sized group of readers. For myself, I enjoyed Seveneves, and found myself bereft when I ran out of pages.

I don't expect it's likely that Neal will return to this universe, but there are a nearly an infinite number of stories that could be written to fill the interstitial spaces between the pieces he shows and the ones that must have been there along the way.
---
advertising index / info
Our advertisers make SFRevu possible, and your consideration is appreciated.

<!- Google Adsense Skyscraper --> <!- End Google Adsense Skyscraper -->