<!PHP Block to display review !>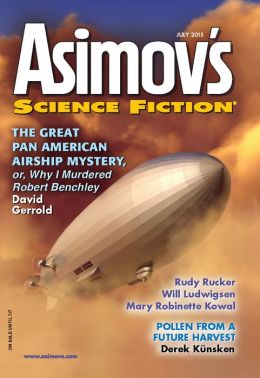 Asimov's Science Fiction – July 2015 – Vol. 39 No. 7– (Whole Number 474)
Edited by Sheila Williams
Cover Artist: James Steidl / Shutterstock.com
Review by Sam Tomaino
Asimov's Science Fiction Magazine / eMag ISBN/ITEM#: 1065-2698
Date: 25 May 2015

Links: Asimov's Science Fiction / How to Subscribe / Pub Info / Table of Contents /

The Juy 2015 issue of Asimov's Science Fiction has stories by Derek Künsken, Mary Robinette Kowal, David Gerrold, Will Lidwigsen, and Rudy Rucker, along with the usual poetry and columns.

Asimov's Science FictionJuly 2015 issue is here and it's another good one.

The fiction begins with "Like Native Things" by Mary Robinette Kowal. -+- Tilda has worked for years as a "mind-rider", someone who can control animals. She is working with dolphins when she gives into a dalliance with her young, handsome assistant, Helmut. He betrays her and takes control of one of the dolphins to commit sabotage. She fights back with every animal she can. Great little story.

"The Great Pan American Airship Mystery, or, Why I Murdered Robert Benchley" by David Gerrold -+- In a world in which Nikola Tesla had developed "an efficient method of low-cost helium extraction" and had made dirigible travel economical. Pan Am is investing heavily into it. It launches its flagship craft, Liberty (three times larger than the Hindenburg), on June 3, 1937 on an inaugural flight from New York City to San Francisco which will take just over a day. A horde of celebrities are on board, including the Algonquin Round Table. Our narrator is a steward tasked with serving them. An aspiring writer, he hopes to pick up some tips but all they do is drink and eat. There is a long discussion on writer's block and what to do about it. They also discuss murdering someone, Louis B. Mayer, a critic or Robert Benchley. We get a fine imitation of Benchley's style of talking in this amusing tale with a wonderful cast of characters, including a well-drawn Tallulah Bankhead.

"Acres of Perhaps by Will Ludwigsen -+- Our narrator tells us the story of a time back in the early 60s when he wrote for a fantasy/science fiction anthology show called Acres of Perhaps. He was not the "genius writer" of the show, that was a man named David Findley. He finds out that David has a secret past with an incident that may explain his genius. But a wrong must be righted and something else must happen. Our narrator, with mixed motives, must participate in this. Good characters, great setting with this television show that, alas, never was.

"Petroglyph Man" by Rudy Rucker -+- Julio and Beatriz take a trip to Hawaii to resuscitate their troubled marriage. Julio runs afoul of the pteroglyphs they see there because of an phone app he has that alters images. Another unique tale from Rucker.

The issue concludes with the novella, "Pollen from a Future Harvest" by Derek Künsken. -+- This is a sequel to "Schools of Clay" in the February 2014 issue. In a universe in which gates going back in time have been discovered, Major Chenesai Okonkwo, of the Sub-Sahara Union, is convinced her senior husband, Colonel Garai Munyaradzi, has been murdered. When she is given carte blanche to investigate why the pollen of the vegetable intelligences is no longer coming through the time portal from 11 years in the future, she also investigates Garai's death. She becomes involved with politics, intrigue and betrayal. There is a bit of info-dumping here but then the story really picks up with a startling conclusion.
---
advertising index / info
Our advertisers make SFRevu possible, and your consideration is appreciated.

<!- Google Adsense Skyscraper --> <!- End Google Adsense Skyscraper -->