<!PHP Block to display review !>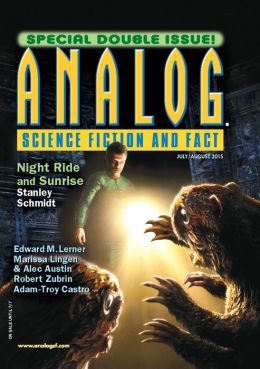 Analog Science Fiction and Fact –July/August 2015 – Vol. CXXXV Nos. 7 & 8
Edited by Trevor Quachri
Cover Artist: Tomislav Tikulin
Review by Sam Tomaino
Analog Magazine / eMag ISBN/ITEM#: 1059-2113
Date: 26 May 2015

Links: Analog SF & F / How to Subscribe / Pub Info / Table of Contents /

The July/August 2015 of Analog features stories by Adam-Troy Castro, Liz J. Anderson, Rob Chilson, Ian Watson, Marissa Lingen & Alec Austin, Arlan Andrews, Sr., Jacob A. Boyd, Ian Creasey, Ron Collins, Bond Elam, Edd Vick & Manny Frishberg, Bud Sparhawk, and Tom Greene. part 1 of a serial by Stanley Schmidt, fact articles by Edward M. Lerner and Robert Zubrin, a Special Feature by Richard A. Lovett, a Probability Zero by Jay Werkheiser, a poem by G.O. Clark plus the regular features.

The July/August 2015 issue of Analog is here and it's a very good one with a Hugo-worthy story.

The short fiction begins with "The Smell of Blood and Thunder" by Liz J. Anderson. -+- Dr. Taje Jesmuhr, a veterinarian, is sent to the planet Sirius, to deal with a problem caused by smartdogs, smartcats, and smartfleas (that are about as big as a dog). Her mission involves her having conversations with all three species and she does come up with a solution. Fun story.

"Breakfast in Bed" by Ian Watson -+- On a Saturday morning, Max and Sandra think their way into undertime, "a second dimension of time, which we never really notice". Strange but an interesting idea.

"Potential Side Effects May Include" by Marissa Lingen & Alec Austin -+- Regina Kwan is taking part in a study of implants that reduce your stress levels. But might they result in ignoring normal caution? Good speculation.

"In the Mix" by Arlan Andrews, Sr. -+- In the late 21st Century, Arty logs into the Mix, absorbing the thoughts and feelings of millions of other people. She knows what it is like to read books from the library left to her by her mothers and liked the experience of reading, but is perfectly happy just being in the Mix like everyone else. Classic look into a possible extension of today's world. Well done.

"Guns Don't Kill People" by Jacob A. Boyd -+- Lurlene is a very smart gun owned by Hastert. When he removes her from her case, she has to assess the situation. Who, for instance, is this woman who looks like Hastert's dead wife, Chastity? Clever look at how intelligent machines can get and a future form of gun control.

"Pincushion Pete" by Ian Creasey -+- Peter Lonsdale is the founder and head of the Campaign Against Intellectual Discrimination (CAID), fighting against idiophobia, prejudice against those with low I.Q.s. This can be cured by gene therapy "patches" inserted at the base of the skull and Pete has many of these, which has brought him criticism in the press. Is he so addicted to them that he cannot even get rid of those he doesn't need anymore? Another interesting look at a potential future development.

"The Tarn" by Rob Chilson -+- Gensifer Quat is arbiter of the sleepy little town of Firkle Fountain. He is dismayed that the town has woken up and everyone is searching for the treasure of the wizard Taizel Tainman in Taunder Pond. Gensifer suspects some sort of scheme by the town swindler, Thuligent Halm. Even a representative of the government, Dandifer Donn, has shown up at the rumor of a super weapon. Things get out of hand and it is quite hilarious until someone puts an end to all the nonsense. I won't say who as that would spoil the fun. Just a delight with a lot of great names and a fun read.

"Tumbling Dice by Ron Collins -+- Jupiter "Jupe" Kelly is shooting craps in the Starshine Casino, in Nellcote Resort, revolving around Artoga, the fourth planet of the Luytens system when She walks in. He is instantly aware of her even though his back is to her. She introduces herself as Kaatji and he immediately kisses her and then rolls the dice, coming up with a winner. He goes on an incredible run and wins a lot of money but he knows that she did something to the dice and knows she has a partner at the table, also winning money. He is so besotted with her, he does not care. Good gonzo kind of a tale.

"Dreams of Spanish Gold" by Bond Elam -+- An artificial intelligence sees a beautiful woman and wonders what human love is like. He incarnates himself as a human, suppressing his memory and becoming that man. He finds out the hard way the perils of love. Nicely done.

"Ashfall" by Edd Vick & Manny Frishberg -+- When a volcano spews ash into the air, a family raising both natural and artificial bees to make honey makes a startling discovery. Another good little tale.

"Delivery" by Bud Sparhawk -+- A man notices that his computer starts ordering things (like toilet paper) for him that he doesn't know he needs. It seems to be predicting the future. This ends with a nice sting.

"The Narrative of More" by Tom Greene -+- Fragments of a record left by an explorer on a world settled by humans long ago but whose people now have no civilization at all. They are human and even can speak the same language as our explorer. They have no sense of community and do not cooperate with each other at all. There are not even families because the DNA was manipulated to allow them to spread genetic material so that even a child born to a mother is not hers. They call our explorer More because if his distribution of gifts. He finds out how this all developed but it does him no good. I'm not sure whether such a culture could survive but it makes for an interesting story.

The short fiction concludes with the novella, "Sleeping Dogs" by Adam-Troy Castro. -+- Thirty years ago, John Draiken quit the spy business. They tortured him to find out why but could not. He was their Prisoner. He escaped and has lived on the planet Greeve. One day, he finds out that one of his old tormentors has arrived on the planet. Has he finally been caught? He confronts the man who says it's just coincidence. He has retired. Draiken cannot accept that. He investigates further and I will not spoil what he find out or how he reacts. The name John Draiken is not coincidence. Just imagine Patrick McGoohan playing him. All that is OK because the end of the story makes it worth it. Great story! I've always liked Adam-Troy Castro's writing and this is one of his best. It really isn't very science fictiony but I don't care. I will put it on my Hugo Novella Short List for next year.
---