<!PHP Block to display review !>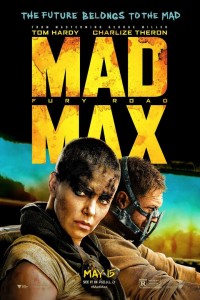 Mad Max: Fury Road by George Miller (wr/dir), Writers: George Miller, Brendan McCarthyand Nick Lathouris
Review by Drew Bittner
Village Roadshow Pictures Film ISBN/ITEM#: tt1392190
Date: 31 May 2015

Links: Official Site: MadMaxMovie.com / IMDB: Mad Max - Fury Road /

The world is a savage wasteland, where a man must be more brutal that the rest to survive. Max Rockatansky was a cop when the world fell apart; now he's a nomad, a survivor...and slowly going insane. When there is nothing to live for, insanity seems like a viable option.

Mad Max: Fury Road begins with Max (Hardy) chased down and captured by the Warboys of Immortan Joe (Keays-Byrne), a former military man whose veneer of strength covers a body ravaged by radiation and disease. He is kept alive by frequent blood transfusions--which is meant to be Max's fate. <! Table with Quote !>

Mad Max: Fury Road

Cast:
Tom Hardy / Max Rockatansky
Charlize Theron / Imperator Furiosa
Nicholas Hoult / Nux
Hugh Keays-Byrne / Immortan Joe
Nathan Jones / Rictus
ZoŽ Kravitz / Toast the Knowing
Rosie Huntington-Whiteley / The Splendid Angharad
Riley Keough / Capable
Abbey Lee / The Dag
Courtney Eaton / Cheedo the Fragile


However, fate throws them a curve when Imperator Furiosa (Theron), driving a modified oil tanker on a run to Gastown, detours from her convoy. She is helping five of Joe's harem, including the very pregnant Splendid (Huntington-Whiteley), to freedom. Joe is stunned by this betrayal of one of his closest commanders, but summons his considerable forces to chase her down. Max is taken by Nux (Hoult) to supply him with blood for the pursuit; like many of the Warboys, Nux is a pale, dehydrated and sickly albino, relying on Max's blood for strength.

Furiosa, meanwhile, has to handle a problem: her own soldiers realize something is very wrong. She must cut them loose, fast, before they can interfere with her escape. The oil tanker, fitted out as a war rig, has plenty of weapons but she is the sole warrior...and she can't do it alone.

The film then begins a long chase, with Max and Nux chasing the rig into a raging sandstorm. They end up with Furiosa and her wards, and Max agrees to help them as soon as they ditch Nux. That proves harder than expected, however, particularly when one of the girls seems something worth redeeming in the suicide-crazy youth.

Although the chase appears to be heading into the deep wasteland, Furiosa has a plan, but it'll take all of her fighting spirit and Max's cunning to pull it off. The two must learn to work together, because Immortan Joe will kill them both if he catches up. And he is always gaining.

Fans of the Mad Max films have already discovered the genius behind the characters and the story. Miller has returned to his roots, making a visceral "how the heck did they do that?" movie that is always in motion, always upping the stakes, while still giving audiences heroes to cheer and villains to hiss.

Max is probably more broken than we've seen him before, prone to hallucinations and psychotic breaks, without even a dog to help keep him stable. He's become one of the monsters of the wilderness, willing to do anything to stay alive even when there's no point to living. And the tales are true--this is not really Max's story: he isn't the protagonist, for all that he's the titular hero.

No, that honor goes to Charlize Theron, who delivers another powerhouse performance as Furiosa. Driven by her own demons, Furiosa pushes herself and the others beyond their limits to reach sanctuary--and what she discovers is the true test of her inner strength. When Max suggests an impossible, even suicidal change of plans, she finds in herself what she needs to make it happen, no matter the cost.

The heroes can only be heroic when measured against their enemies. Immortan Joe is a hellish creation of the end of the world, a leader who holds his people in thrall with an iron fist. He lavishes what he has to offer on his loyal troops, doling out the leftovers to the thousands struggling below his enclave. He has the allegiance of mysterious other settlements like the Bullet Farm and Gastown, but the ravages of disease--and the prospect of a perfect, healthy heir--keep him going. He is in the same league as the Humongous, clearly, and cut from the same cloth.

Nicholas Hoult goes into all new territory, playing a faithful acolyte of Joe's who faces some terrible truths. Hoult plays the kid with tremendous skill, showing us that there is something worthwhile hiding inside this seemingly casual killer. He's as broken as the rest of the world but maybe he can put himself back together.

And that's a major theme of the movie. The world is broken, perhaps beyond repair, but there are still some things--and people--that can be redeemed. Max faces his own moment of truth, when he has to decide if Furiosa can be trusted, and just as before, in previous installments, it is the ability to sacrifice oneself for the greater good that will make us worthy of survival.

Oh, and the stunts are just jaw-droppingly unbelievable, too.

This will probably end up on every critic's top three movies of the summer, and deservedly so.

Highly recommended.
---
advertising index / info
Our advertisers make SFRevu possible, and your consideration is appreciated.

<!- Google Adsense Skyscraper --> <!- End Google Adsense Skyscraper -->