<!PHP Block to display review !>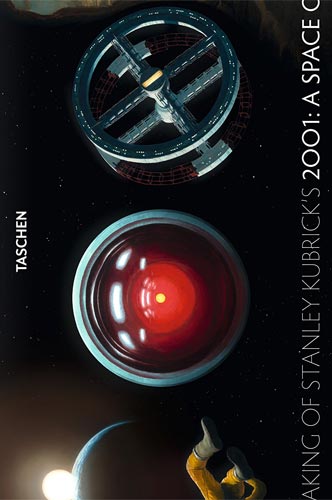 The Making of Stanley Kubrick's '2001: A Space Odyssey' by Piers Bizony
Review by Robert Sawyer
Taschen Hardcover ISBN/ITEM#: 3836559544
Date: 05 September 2015 List Price $69.99 Amazon US / Amazon UK

Links: Author's Wikipedia Entry / Publisher's Book Page / Show Official Info /

Last year, Taschen put out a limited-edition $750 compendium of documents about the making of the movie 2001: A Space Odyssey. This year, shorn of some of the special features, the core hardcover volume from that collection is now available at a list price of $70 (and for much less than that from the usual online retailers).

The visual content of the book is wide-ranging and fabulous: preproduction art, detailed photos of models, behind the scenes photos, and stills from the film. But in a triumph of design over content, Taschen has made the book resemble the monolith: black-covered, tall and thin. The tall pages are an awkward form factor, and many pictures that would otherwise have been stunning on a single normal-width page instead cross two pages, dipping into the spine. A two-page spread of the famous zero-gravity toilet instructions is thus rendered unreadable in the middle of each line. To compensate for this design choice, there are a lot of foldout pages, but they suffer from a visible crease down the center of each one.

The wealth of content is amazing; I've been a fan of this film since I first saw it in 1968, and have read just about everything that's been published about it before, and there's tons of good stuff here I've never seen before. It's bargain-priced and beautiful, but the thinking behind the decision to format the book in this odd way ... still a total mystery.

There's also a lot of great text, but that definitely takes a back seat — this should have been done in the form of a normal coffee-table book. In contrast, the amazing Return to Tomorrow: The Filming of Star Trek: The Motion Picture by Preston Neal Jones (published last year) contains nothing but text — no photos or illustrations. But the layout and typography are beautiful, and it's simply a joy to read. One wishes the same could be said about this 2001 book. Still, it's a treasure trove; I'm glad I bought it and I do recommend it.
---
Hugo Award-winner Robert J. Sawyer's 23rd novel <Quantum Night will be published in March 2016.
---
advertising index / info
Our advertisers make SFRevu possible, and your consideration is appreciated.

<!- Google Adsense Skyscraper --> <!- End Google Adsense Skyscraper -->