<!PHP Block to display review !>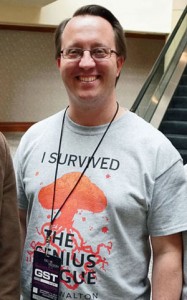 Interview: David Walton by Ernest Lilley
Review by Ernest Lilley
Pyr *Interview
Date: 05 November 2017

Links: Review: The Genius Plague / D. Walton's Website /

I ran into author David Walton recently at Escape Velocity 2017, the Museum of Science Fiction convention in Washington, DC. I enjoyed his previous books Superposition and Supersymmetry and was happy to hear that his new book, The Genius Plague, was just out. I took the opportunity to follow up on our review with some questions for the author. - Ernest

SFRevu: Your last two books focused on quantum physics, and by the way, I loved the idea of putting a supercollider under the New Jersey Pine Barrens. In The Genius Plague you shift your attention to the biosciences with a mix of mycology and neuroscience. What made you choose these topics, and how much of the story was in place before you dug into the research?

David Walton: For me, the research always comes first. Not that I don't look a lot of things up while writing the story, but it's the research that drives the story to begin with. I read up on a fascinating subject and take notes on all the really awesome bits, and then string the awesome bits together until a story emerges.

I started down the research path for The Genius Plague from a suggestion I encountered in a book (it might have been The Botany of Desire by Michael Pollan) that wheat is the dominant organism on the planet, having tamed man to spread its seeds everywhere and kill off competing species. I thought a story about a plant that took over the world would be awesome until a friend suggested that fungi might fit what I was looking for better. As I started to read books about fungi, like Mycelium Running by Paul Stamets, I started learning all the incredible properties of fungi, including its ability to influence mammal brains. The neuroscience came out of that and the Alzheimer's which led me to more research, and the whole story grew from there.

SFRevu: Mycology is hot right now. The new Star Trek uses a spore drive, and elsewhere you've commented on both The Girl With All the Gifts and the video game as not being the spore for your book ... but do you have any idea why fungi is having a moment?

David Walton: I didn't know mycology was hot when I started writing The Genius Plague. The Girl with All The Gifts had just come out, and I hadn't read it yet, and I had never heard of the video game. I suspect that a lot of the mycological mania comes from the amazing clip about zombie ants in the BBC's Planet Earth documentary with David Attenborough, about fungus that infects ants, takes control of their brains, and forces them to climb a high branch over the colony, at which point the fungus grows out of the top of their head and bursts, scattering spores everywhere. It's an astonishing and creepy example of fungi controlling an animal, and one which Mike Carey even mentions directly in The Girl with All The Gifts. So that clip gets my vote for where the enthusiasm might have started.
SFRevu: I've seen your comments on other influences elsewhere about what didn't influence you, but for me, The Genius Plague resonates most notably with Heinlein's The Puppet Masters (1951) where mind controlling slugs took over human hosts. I also liked the bit in your book about people developing a symbiotic relationship with flesh clinging lichen which reminded me of The Green Leopard Plague (2004) novella by Walter Jon Williams, or some of Nancy Kress' work, but I don't expect it influenced you. Any thoughts on that?
David Walton: Nancy Kress has certainly had a huge influence on me as an author, if not specifically on The Genius Plague. I devoured her short fiction when I discovered it, and a lot of how I learned to write was by reading her books on writing and her articles in Writers Digest. Beggars in Spain is one of my favorite novels ever.
SFRevu: While we're on the subject of other SF, what did you read growing up and what are you reading now, assuming you have time.
David Walton: Growing up, we didn't buy many new books so my main source of fiction was the local library, which we visited frequently. I read Asimov and Bradbury and Clarke and other masters of an earlier era, without being aware that SF was something people were still writing. It wasn't until college that I discovered Orson Scott Card and Nancy Kress and David Brin and Robert Sawyer. Now, of course, I'm aware of a much wider range of what SF is being published. At the moment, I'm reading Infomocracy by Malka Older; Noumenon by Marina Lostetter; and Autonomous by Annalee Newitz. My favorite reads of this year, I think, have been The Boy on the Bridge by M.R. Carey (sequel to The Girl With All the Gifts); Last Year by Robert Charles Wilson; and N.K. Jemisin's Broken Earth Trilogyy.
SFRevu: We know you're a fan of James S.A. Corey's Expanse novels, and with the possibility of a TV series based on your novel Superposition we expect you've had a look at how The Expanse translated into a series. Any updates on the prospects for Superposition? How do you think they did on The Expanse and is there anything out there you're a special fan of?
David Walton: I think they've done as good a job with the Expanse TV show as you can do with a book adaptation. They've been very faithful to the story and the characters, and the changes they've made have made a lot of sense. I think you were there at Escape Velocity when I chatted briefly with Cas Anvar, the actor who plays Alex on the show, about how much Daniel Abraham and Ty Franck have been involved in the screenwriting and production of the TV show and his belief that their involvement has raised the quality considerably.
The latest on the Superposition TV show is that the screenwriter (Harley Peyton) and the director (Jeremiah Chechik) as well as Game of Thrones executive producer Vince Gerardis and my agent, Matt Kennedy, are pitching the show to networks. So it hasn't yet been picked up for production, but there are some serious Hollywood veterans who believe in the project and are pushing to make it happen. So we'll see!
SFRevu: You've mentioned elsewhere that you've come to prefer standalone novels to series. Is that because you don't want to wear out the book's welcome or do you just enjoy coming up with strange new worlds?
David Walton: It's mostly the latter. Some authors write world-building books, where there's an entire universe to explore, or recurring adventure books, where the same character can solve a new crime or go off on a new adventure. My books tend to be idea books, where I have a concept I can use to explore some aspect of human life. When I've finished a book, I feel like I've done that idea already and I want to try a new one. It's more exciting and interesting to me as an author to move onto something new. Which is not to say that I'll never write a sequel again, but at this point, I'm favoring standalone novels.
SFRevu: You've done cyberpunk, alchemy, quantum physics, and ​mind-altering mushrooms, so ... what's next?
David Walton: My next book is called Three Laws Lethal and it's about AI and self-driving cars. Once again, I try to do my research and present a realistic picture of the legal and ethical issues surrounding self-driving cars and what happens when we put life-and-death decisions in the hands of machine learning algorithms. The story is also very aware of the long history of SF books that treat with some of these issues, so for the widely-read SF reader there will be a lot of references and homages to make you smile.
---