<!PHP Block to display review !>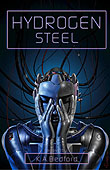 K.A. Bedford finalist for Aurealis Award
SFRevu.com News
Date: January 2006 /

K. A. BEDFORD, Winner of last year's Australian Aurealis Award for Best Science Fiction Novel, is once again a finalist for this year's Aurealis Award.

EDGE Science Fiction and Fantasy Publishing recently announced that Hydrogen Steel, by K. A. Bedford, has been short listed for an Aurealis Award - Australia's premier award for science fiction literature.

This is Bedford's 3rd time as a finalist for the coveted Australian literary award - once for each of his three novels.

He won the 2006 Aurealis award for "Best SF Novel" for his SF/Suspense novel Eclipse.

His first book, Orbital Burn, was a finalist in 2004.

Canadian Publisher Brian Hades stated, "We are extremely proud of Adrian. Hydrogen Steel is a unique blend of Bedford's writing abilities - from sardonic humor to sit-at-the-edge-of-your-seat suspense. His new novel, Hydrogen Steel, introduces some new and completely different character complexities and plot twists. I'm delighted that EDGE is able to bring the works of this fine Australian author to the world."

About Hydrogen Steel:
Hydrogen Steel is a powerfully intricate SF mystery within a mystery - the case of a former android who has been accused of killing his wife and kids, being investigated by a retired police officer, Zette McGee, who learns she is actually an android created to look as if she is human; and Gideon Smith, an elusive elderly former secret agent who seems to have never ending tricks up his sleeve.

The lines between what is "alive" and "not alive", and "truth" and "illusion" seem to grow paper thin, as Bedford takes us on a journey into the darkness of space, and into the depths of the murderous and corrupt artificial consciousness of a firemind named Hydrogen Steel - the nearly omniscient entity that stops at nothing to prevent Smith and McGee from solving the case, and uncovering the secret of an even bigger mystery - what REALLY happened when Earth was destroyed...

About K. A. Bedford:
K. A. Bedford was born in Fremantle, Australia in 1963. He attended Murdoch and Curtin Universities and studied Writing, Theatre, and Philosophy, before becoming involved in the Australian SF community. "Orbital Burn", his first novel, was followed by the Aurealis Award winner "Eclipse". "Hydrogen Steel" is his third novel. Adrian Bedford lives with his wife, Michelle, near Perth, Australia.

About the Aurealis Awards:
The Aurealis Awards are now in their eleventh year as Australia's premier awards for speculative fiction. They will be presented on January 27nd, 2007 in Brisbane, Australia.
---
advertising index / info
Our advertisers make SFRevu possible, and your consideration is appreciated.

<!- Google Adsense Skyscraper --> <!- End Google Adsense Skyscraper -->