<!PHP Block to display review !>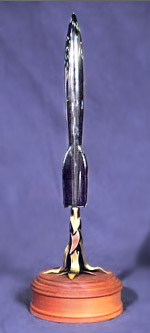 Hugo Nominations -- Suggestions for Shorter Works by Sam Tomaino
SFRevu.com Article ISBN/ITEM#: HNS2007
Date: February 2007 /

Best Short Fiction of 2006

It's January, 2007, and it's time to think about what we are going to nominate for the short fiction Hugo Awards. It's been a pretty good year for short fiction and I have some suggestions.

Let me make this clear. This is not an exhaustive list. It's drawn from what I've read and I'm sure I've missed some good stuff. I've read the year's worth of The Magazine of Fantasy and Science Fiction (hereafter F&SF), Asimov's Science Fiction (hereafter Asimov's), Analog and Interzone.

My list is also drawn from single issues of Jim Baen's Universe (Vol. 1 Number 3, October 2006), Postscripts (Autumn 2006 – Number 8) and Subterranean (Issue #5). I also found a story from Paradox<./i> (The Magazine of Historical and Speculative Fiction). In addition, I found stories in these original anthologies: Elemental edited by Steven Saville and Althea Kontis (TOR) and Salon Fantastique edited by Ellen Datlow & Terry Windling (Thunder's Mouth Press) and these single author collections: The Line Between by Peter S. Beagle (Tachyon) and The Chains That You Refuse by Elizabeth Bear (Night Shade Books). There is one more qualification to my list. Since this is for Hugo Award nominations, I have excluded outright supernatural stories as they are not eligible. I have been pretty free with what I considered fantasy, which is eligible, though. All the stories I list got an Excellent from me. In the case of Novellas, that's only three but there are 15 novelettes and 19 short stories, so you have a lot to choose from there. Last, all references to months assume a year of 2006.

Novellas:
As I said, I only found three Novellas that I rated Excellent. I don't know what I'll do to round out the list of five nominees. Maybe, I'll just nominate three. Anyway, here they are. "Planet of Mystery" by Terry Bisson was serialized in the January and February of F&SF. In it, two astronauts make the first human landing on Venus, but they get a surprise. The dry lake is actually very wet and the air is Earth-normal. Then, they're captured by Amazons riding centaurs and are taken to their queen. Bisson takes what sound like a bad 1950s movie and does something wonderful with it.

Next, there's "The Walls of the Universe" by Paul Melko (Asimov's, April/May). This story involves a boy named John and his counterparts in other dimensions. One of them discovers a way to travel from one dimension to another. The story is told from the viewpoint of several of the Johns and really impressed me.

The last of the novellas is "Lord Weary's Empire" by Michael Swanwick (Asimov's, December) and is a sequel to a previous story. It's set in a world somewhat like ours but populated by elves and other fantasy beings. A character from the previous story, Will, becomes involved with a group of people who live underground, led by an elf-lord named Lord Weary. The story features some great characters, lots of action and a very surprising conclusion.

Novelettes:
There were quite a few great novelettes this year and here they are. "Yellow Card Man" by Paulo Bacigalupi (Asimov's, December) is the story of an old man named Tranh, an ethnic Chinese who was once a rich man in Malaysia. The country kicked out the Chinese and now he does what he can to survive in Thailand. Bacigalupi has another great story in "Pop Squad" (F&SF, October/November). This is a grim tale of a future in which people can take "rejoo" treatments to become essentially immortal and new births are prohibited. But women will give up immortality to have babies. The story is told by a member of the Pop Squad that brutally enforces the law against babies and must make an important decision.

Peter Beagle published no less than three great novelettes this year. "Chandail" in Salon Fantastique tells us of sea creatures who feed on our memories. Lal, sold into slavery as a child but now free, helps a dying one and is well rewarded. "El Regalo" (F&SF October/November) is the story of a young girl finding out that her brother has magical powers. But then it becomes something more and that's what makes it exceptional. In "Salt Wine" (Fantasy Magazine May/June), Henry Lee is rewarded for saving a "merrow" (a merman) by being given the recipe for a marvelous drink called salt wine. He makes a lot of money out of this but there are grave consequences. I read this story in Beagle's collection, The Line Between which also contains "El Regalo" and last year's Hugo winner, the wonderful "Two Hearts".

Another great story was "Femaville 29" (Salon Fantastique) by Paul Di Filippo in which a tsunami destroys a town and a man finds children who deal with it in a most unusual way.

In "The Night Whiskey" by Jeffery Ford (Salon Fantastique), a town has an annual event where someone is chosen to drink Night Whiskey and commune with the dead. They, then, wind up sleeping in a tree. But something disrupts the orderly way the town works.

Next we have two stories by Matthew Hughes featuring his explorer of the collective unconscious, Guth Bandar. In "A Herd of Opportunity" (F&SF, May), Bandar and his superior, Preceptor Huffley, travel to the planet Gamza to find out why the native Bololos seem to be channeling human archetypes. "Bye the Rules" (F&SF, December) has Bandar being thrown out of the Institute for Historical Inquiry for heresy. What the heresy is makes for a great story.

Another tale that I thought Excellent was "Frankie on Zanzibar" by David Mace (Interzone #207, December) in which Franzi, a 10 year old genius discovers her true origin and what she needs to do to survive in a hostile world. Another great story in Interzone (#202, February) was "Sundowner Sheila" by F. Gwynplaine MacIntyre. It's set an inhospitable planet in a part of which it is always noon and sundown never comes. The area is worked by two "compozzies", artificially made men who have memories of many men who originally lived in Australia. The story is told through the eyes of Blodger, the brawn half of the team. His supervisor is Dicko who is the brain half although he's no rocket scientist. Into this company comes Sundowner Sheila a woman with talents of her own.

"The Djinn's Wife" by Ian McDonald (Asimov's, July) is another story set in a future, divided India: the same setting for McDonald's previous story for Asimov's, "The Little Goddess" and is Hugo-nominated novel River of Gods. In it a dancer falls in love and marries an artificial intelligence who is a diplomat for one of the other countries into which India is split.

Perennial Hugo nominee (and winner) Mike Resnick contributes "All the Things You Are" (Jim Baen's Universe, Vol. 1 Number 3, October 2006). Gregory Donovan, a policeman, wants to know why men and aliens who fought each other on a planet are all getting themselves killed by doing wildly heroic acts, like charging men with guns. He goes to the planet and finds out why.

In "Longing For Langalana" by Mercurio D. Rivera (Interzone, June), we meet Shimera, a female member of the race known as the Wergen. She falls in love with a Earth boy named Phineas in a story of doomed love. The last of the novelettes is "Pol Pot's Beautiful Daughter (Fantasy)" by Geoff Ryman (F&SF, another of his tales set in Cambodia. While we are constantly told that it is a lie, we get a wonderful story about how just such a young woman would deal with the father's bloody legacy.

Short Stories:
We have a lot of short stories to talk about, so let's go. "Storm Poet" by Kim Antieau (Asimov's, January) is a lyrical, beautiful tale set in Michigan in 1932. Billy's family has trouble farming because of a devastating drought. "Getting Dark" by Neal Barrett, Jr. (Subterranean #5) has only one character, "Betty Ann, John-William's mother", an African-American woman of some advanced age in an era that still had shows on the radio. As the story progresses, we learn more about her hard life and witness her triumphant spirit as the dark approaches.

"Gone to Flowers by Elizabeth Bear" (Eidolon I (Eidolon Books) and The Chains That You Refuse) is an "origin" story of Jenny Casey, a woman soldier who appears in Bear's novels. Scott William Carter's "Happy Time" (Postscripts, Autumn 2006 – Number 8) is the story of Dale who lives a very ordered and solitary existence until a little girl literally runs into him and shows him a different world. Susanna Clarke contributes a great side story from the world of her novel, Jonathan Strange & Mr. Norrell in which The Raven King runs afoul of a charcoal burner in "John Uskglass and the Cumbrian Charcoal Burner" (F&SF, December). The always reliable Albert E. Cowdrey published "Revelation" in the October/November issue of F&SF. In it, a young man believes that the earth is actually a dragon's egg which is about to hatch. He uses psychology & creative writing to deal with this belief.

Another great story is "Senora Suerte" by Tannarive Due (F&SF, September) based on an idea by Harlan Ellison. This is the story of Lady Luck favoring a man in an elder care facility. Carol Emshwiller's "Killers" ((F&SF, October/November) is a short but chilling tale of a future community devastated by global war & global warming. In "Perfection" by Lynn Flewelling (Elemental), a woman designs a beautiful palace for a tyrannical Emperor as her final glorious work. "Wanting to Want" by Eugie Foster (Hub Magazine, Issue 1, Christmas) is the story of Bitty, a crack whore who tries a way out with a price. Paradox #9 had a great story by Lisa Jensen called "Prosperina's Curse". It is essentially an origin story for a certain famous pirate who had a hook for a hand. Another fantastic story from the collection, Elemental is "The Last Mortal Man" by Syne Mitchell, in which a man must make a decision chose between immortality or death and be faithful to the woman he loves.

"Spheres" by Suzanne Palmer (Interzone #207, December) takes place in some kind of outer space habitat in which people live in linked spherical rooms. In this setting, we get a great murder mystery.

Robert Reed has two stories on my list. "Intolerance" (F&SF, March) creates a little monster name Cabe and how he makes people miserable. "Rwanda" (Asimov's, March) is not set in Africa but in what seems like a more or less contemporary America. The story starts off quite mundanely until we find out what has happened to Earth in the recent past. It's not anything good.

Yet another story from Michael Swanwick is "The Bordello in Faerie" (Postscripts, Autumn, Number 8). Ned Wilkins is a factory worker who lives along the border of Faerie and has heard about the bordello there. It takes him sometime to get there and he has a surprising experience when he does. In "A Grey and Soundless Tide" by Catherynne M. Valente (Salon Fantastique), a woman takes in a young girl carrying her skin. Her name is Silja and she is a selkie. Another great story is by James Van Pelt and is called "The Small, Astral Object Genius" (Asimov's, October/November). In it, a young boy has a device called a "Peek-A-Boo" that somehow can take pictures of distant galaxies. Like many others, he sends it out regularly and sometimes adds to mankind's knowledge.

Last, but certainly not least, is "The Old Woman In the Young Woman" by Gene Wolfe (Jim Baen's Universe, Vol. 1 Number 3, October). Wolfe gives us the tale of Long Tom, who in some post-apocalyptic America, comes across a young woman taking care of an older woman. How the women are connected and what one does for the other make for a great story.

I'm going to have a difficult time narrowing down my nominations. I'll let you know how I make out.
---
Our Readers Respond
---
From: Susan
I notice you've got Catherynne Valente's Orphan's Tales book on your list. I would like to bring to your attention the CD For The Girl in the Garden: Songs and Readings in Celebration of The Orphan's Tales: In the Night Garden by Catherynne M. Valente, a compilation by S.J. Tucker of readings from the book and songs inspired by it, which I believe would be eligible in DP-Short Form. It can be heard at http://www.skinnywhitechick.com/music.php. Obligatory disclaimer: I'm not S.J., I have no special interest here except liking both book and CD immensely. (I actually was impelled to read the book because I was facsinated by the CD.)
---