<!PHP Block to display review !>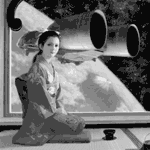 2007 Hugo Nominations Announced
Cover Artist: Nippon 2007
Review by sfrevucrew
SFRevu News ISBN/ITEM#: 2007HugoNo
Date: 29 March 2007

Links: Nippon2007 website / Hugo Award Home Page /

Nippon 2007 is delighted to announce the nominees for the 2007 Hugo Awards (for work done in 2006). The Hugo Awards are science fiction's highest honor for professional and fan work.

Final votes will be cast only by members of Nippon 2007, and the Final Ballot and its deadline will be announced at a later date.

Winners will be announced at the the Hugo Awards Ceremonies during the 65th World Science Fiction Convention in Yokohama, Japan, on Saturday, September 1st. The ceremony will begin at 6:00 p.m. JPT. The Worldcon will be held in the Pacifico Yokohama Convention Center on August 30th - September 3, 2007.
Nippon 2007 Hugo Nominees
For work done in 2006
Best Short Story

How to Talk to Girls at Parties
Neil Gaiman
(Fragile Things, William Morrow)
Kin
Bruce McAllister
(Asimov's February 2006)
Impossible Dreams
Tim Pratt
(Asimov's July 2006)
Eight Episodes
Robert Reed
(Asimov's June 2006)
The House Beyond Your Sky
Benjamin Rosenbaum
(Strange Horizons Sept 2006)
Best Related Book

About Writing: Seven Essays, Four Letters, and Five Interviews
Samuel R. Delany
(Wesleyan University Press)
Heinlein's Children: The Juveniles
Joseph T. Major
(Advent: Publishing)
James Tiptree, Jr.: The Double Life of Alice B Sheldon
Julie Phillips
(St. Martin's)
Cover Story: The Art of John Picacio
John Picacio
(MonkeyBrain Books)
Worldcon Guest of Honor Speeches
Mike Resnick and Joe Siclari, eds.
(ISFiC Press)
Best Dramatic Presentation - Short Form

Battlestar Galactica
Downloaded
Doctor Who
Army of Ghosts and Doomsday
Doctor Who
Girl in the Fireplace
Doctor Who
School Reunion
Stargate SG-1
200
---
advertising index / info
Our advertisers make SFRevu possible, and your consideration is appreciated.

<!- Google Adsense Skyscraper --> <!- End Google Adsense Skyscraper -->