<!PHP Block to display review !>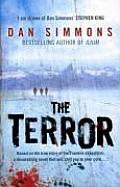 The Terror by Dan Simmons
Review by John Berlyne
Bantam Books Ltd Paperback ISBN/ITEM#: 9780553818208
Date: 01 January 2008 List Price £7.99 Amazon US / Amazon UK /

My top book of 2007 by miles and miles. Dan Simmons' extraordinary novel The Terror is released in mass market paperback this month and it is a novel I most emphatically recommended. This tale of Arctic exploration gone tragically wrong held me in its icy grip from start to finish and I've been raving about it to anyone who'll listen ever since! For a more thorough recommendation, do please check out my review which we're re-running this issue.

Sheer brilliance.

Dan Simmons is one of our more revered genre writers, in large part due to the huge critical success of the four novels that make up The Hyperion Cantos, the multi-award winning sequence which is seminal reading for any self-respecting science fiction reader. Horror fans revere Simmons too -- indeed his debut novel, the World Fantasy Award-winning Song of Kali (read my review on Sfsite, where I'm occasionally caught moonlighting!) is also considered a cornerstone work, depicting as it does a dark tale of one man's descent into the dark Hell that lies beneath modern-day Calcutta.

What makes Simmons particularly special is the way in which his work stretches way beyond the confines of mere genre. Here is a writer at home in any genre, whether it be suspense, hard-boiled crime, supernatural thriller, vampire stories, historical spy tales ... Simmons can, it seems, do anything, if not everything. His new novel, The Terror, more than adequately substantiates this remark. It is one of the most remarkable things I've read in a very long time.

Set in the 1840s, The Terror relates the appalling fate of the famously lost Franklin Expedition -- two ships, HMS Terror and HMS Erebus, under the command of Sir John Franklin, set out to find the rumoured North-West Passage in the cold wastelands of the Arctic. The ships, containing 134 men and enough supplies to last a number of years, were never seen again. The loss of Franklin's expedition sparked a rescue mission hitherto unprecedented in naval history. Speculation as to the fate of Franklin and his crew remains to this day -- it is known that the two ships were locked in the Arctic ice for over two years and that Franklin himself died in 1847. The rest of the crew presumably perished from cold and starvation, but theories abound as to the grim details. Lead poisoning from poorly canned food is cited as a probable cause of death, and that is quite apart from the sub-zero conditions and inescapable onset of scurvy. That these men almost certainly resorted to cannibalism before they finally died is a strongly contested argument to this day.

Given the known history of this tale, Simmons wisely begins his fiction from the point at which we can only speculate as to what may really have happened. The Terror and the Erebus are held fast in the Arctic ice from the start of the book, and so begins a harrowing tale of survival and one which we know right from the start is doomed to failure. One might suppose that a novel where all the characters are confined to a single location might feel limited, but Simmons turns this notion on its head, instead somehow constantly finding new ways to depict the landscape in all its savage beauty. Additionally, Simmons relates the action via multiple points of view, and that allows him to set his characters at odds with each other which, given the peculiarly confined and claustrophobic atmosphere (darkness, dirt, grime and deprivation, all topped off with ice-cold fear), conveys painfully the extraordinary strains and stresses that the characters are constantly under. Their psyches groan like the sides of their ships, both under tremendous pressure from the ice that confines them. And it is into this highly charged scenario that Simmons introduces the most speculative aspect of his story -- the title refers not only to the ship of the same name, but also to whatever monster is stalking the stranded men out there in the snow. Glimpsed through heavy blizzards, it looks to be similar to the native white bear of the region, but no bear was ever this big -- and no bear walks like this one, on two legs as often as on four. The monster savagely picks off the men at random, sometimes singly, sometimes in groups, and its predatory presence in the story seems almost unbearable. It's enough to have these men experiencing the anguish and deprivation of their entrapment in the hostile ice -- but to add this unknowable evil to the mix is excruciating for the reader … and of course, makes this book impossible to put down.

For all this incessant suffering, Simmons also offers us a good deal of hope -- no easy task given what he's already served up. Francis Crozier -- historically the commanding officer of the Terror and rumoured to have been the last man to die -- is the main POV character. A depressive realist and an alcoholic to boot (one who knows his supplies are limited), he faces the doom of his situation with dignity and iron. To keep command of a group of largely ignorant men in such dire straits is no mean task, and Simmons writes a completely believable character who, in spite of fighting demons of his own, is intent on bringing his men home. Others are not so dignified, and Simmons shares with us the gamut of human (and inhuman) nature through the eyes of much lesser men than Crozier.

Also on the ship is an Eskimo woman unable to communicate with her captors/saviours as she has no tongue -- the ship's doctor suggests that it has been ripped out from the root. This dark-skinned woman is nicknamed Lady Silence by the crew, and she remains a mystery and a target of much superstition and suspicion, coming and going from the ship at will. What is clear though is that she is able to live off this desolate land. Her native skills, if only the men could learn them, would ensure the crew's survival until a rescue party reached them. This is, I suppose, an environmentalist moral slipped into the story by Simmons -- but a worthy one without doubt. It is astonishing how greed and selfishness quickly overcome the dominant animals in the pack -- and the Europeans display a trait that has oft repeated itself throughout history, seeming to take a perverse joy in destroying the indigenous inhabitants when they could have been of such use.

An astonishing emotional experience, The Terror is nothing short of a masterpiece in my opinion. It is a bona fide tour de force, a gruelling, moving story of unbearable and insurmountable difficulties. It is sombre and deeply felt -- indeed, Simmons' work is in part the narrative equivalent of a requiem for those lost on the Franklin expedition, a story related at times in hushed, cathedral tones. Yet it is also, paradoxically, a decidedly uplifting tale, a tribute to our indomitable human spirit and innate resilience, a story where courage and the desire for life abound even when looking into the naked face of death itself.

Very highly recommended.
---
advertising index / info
Our advertisers make SFRevu possible, and your consideration is appreciated.

<!- Google Adsense Skyscraper --> <!- End Google Adsense Skyscraper -->