<!PHP Block to display review !>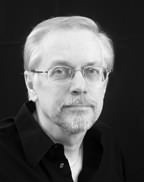 Interview: Alan F. Beck by Gayle Surrette
Review by Gayle Surrette
SFRevu.com Interview ISBN/ITEM#: INTAlanFBeck
Date: 06 December 2007

Links: Website of Alan F. Beck / Show Official Info /

I've been checking out Alan Beck's artwork at convention art shows for a while. This past year, I've particularly enjoyed his Mouse art. "Mouse art," you ask. "What's Mouse art?" Well, Alan has taken famous portraits and redone them with a mouse in the title role. Check out his website for Benjamouse Franklin, The Mouse with Pearl Earring, and so many more. Not only is Alan Beck talented but he also has a wry sense of humor. But there's more. He also does book covers, science fiction, fantasy, and surrealistic artwork.

Alan was also nice enough to agree to answer some questions for us.

SFRevu: Your website says you've always been a fan of science fiction and fantasy writing and artwork. But how did you get started as an artist in the field?

Alan: I actually got into the field kind of late in my career. From a young age I set my sights on being an illustrator, having spent many hours poring over the works of Norman Rockwell, Chesley Bonestell, Willy Ley and others. After finishing art school and a stint in the Army (drafted), I went to work in the advertising field. I did space scenes and fantasy art in my spare time for pleasure. I did some sketches of hobbits back in the late '60s and sent copies to J.R.R. Tolkien. He wrote back to me with approval of my pieces and that encouraged me to continue. I started showing my work in convention art shows in the late '90s and started getting assignments for book covers and magazine interior art.

SFRevu: I liked your list of influences on your artwork, and from looking about on your site I can see some influences that you didn't list but seem to have had a homage/nod to the style. Artists, from what I understand, will often try to imitate a style in order to learn the mechanics of that style. I'm wondering if trying the styles of the various masters was a seed for your delightful mouse portraits. How did they come about?
Alan: The mouse portraits started a year and a half ago. I had some small frames and wanted to do something with them. I thought of doing a portrait and, because of the small size of the frame, decided the subject should be a mouse. I did some research of fashions by looking at portraits done by the masters. The first portraits turned out well, so I started doing more and have a whole series going. All are based on famous paintings by Rembrandt, Velázquez, Vermeer, and others. I think they work because the paintings are "mouse size" and I treat them as if I was painting a regular portrait. It's been a lot of fun for me as I get to visit and study the composition, techniques and color palettes of the master painters.
SFRevu: Reading over your lists of what's in your toolbox, I'm overwhelmed by how much of an artist's bag of tricks involves computer programs and tools. Did you think when you started out that computers would be such a big part of creating art?
Alan: Because of my work in advertising and design, I got into using computers early in the late '80s. It was a real time-saver for layouts, type setting, creating illustrations, design elements, photo retouching and manipulation. Another advantage was being able to make client changes and adjustments quickly without having to start over. These same practices are still being used today as most published art is usually transmitted as digital files now.
SFRevu: A follow-up: How much has the way you work changed with the introduction of computers and the slew of art-related programs?
Alan: Even though you are creating fantasy or science fiction images of things that do not exist yet, they have to be grounded in reality to be convincing. So research is a big part of the creative process. The computer, thanks to the Internet, has expanded the research function immensely. I use 3-D modeling programs to create simple elements like a silver goblet to an entire landscape to serve as a reference for creating a painting. I can move objects to improve the composition, then let the computer do the work of showing the proper perspective, casting shadows and rendering reflections. I use the image as a base to start and then digitally paint over it using Photoshop or Painter. Sometimes I print it out and create a mixed media piece by painting directly over the print with pastels or acrylics. I also use these images as references to create a painting using traditional media.
SFRevu: What is your favorite piece of your own work, and why?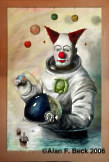 Alan: It is usually the last one I finished. However I am still fond of a large, surrealistic painting called "Astro Clown". It is hanging right outside my studio door so I see it several times a day. There are many elements to explore and some parts I handled very well, or at least to my satisfaction. I still might add some other things to it though. As most artists will tell you, paintings, like houses, are never finished and there is always something you would like to change or improve.
SFRevu: Artists seem to have to be very organized business people as well as very creative. How do you manage to balance those two activities -- logical/business, creative/artistic?
Alan: Unless you have a rich patron to support you, you have to treat art as a business. I try to maintain a schedule to maximize my time. By this I mean you have to plan ahead and take advantage of discounts in supplies, buy in bulk if possible, allow time to ship using lower rates. You must schedule time for paperwork, keeping records and research. On the creative side I schedule time for painting or drawing each day. I usually paint in two-hour segments, take a short break and paint another two hours. You have to get away from a piece and view it later with fresh eyes. I also schedule at least a day each month to visit a museum or gallery to inspire and refresh the creative juices.
SFRevu: Do you only paint for assignments, or do you also paint for yourself as well? Or, does painting for yourself sometimes end up being for a commission?
Alan: I usually paint for myself. I am a fan at heart and enjoy exploring the science fiction and fantasy worlds. Painting for the fans that attend the cons across the country gives me great satisfaction. I also get commissions for paintings or publishing as well as requests for usage of existing paintings I have done in the past.
SFRevu: What inspires you? How do you get going on a new project?
Alan: Everything inspires me. Reading, TV, movies, long walks, travel, great artists of today and the past. Sometimes it's just something that flashes in the corner of my eye. I keep sketchbooks handy all the time. I have them filled with rough sketch ideas. Sometimes I just have a sentence of a thought on a page that will develop into something in the future.
SFRevu: This is one of our standard questions here: what was the first SF or fantasy book or piece of art that gave you that sense of awe?
Alan: Fantasy book: J.R.R. Tolkien's Lord of the Ring trilogy. Sci-Fi book: Childhood's End by Arthur C. Clark. Today I have the photo from NASA that shows the Galaxy Cluster Abell 2218 taken in 2000 hanging in front of my drawing table. It shows hundreds of galaxies containing billions of stars in one small part of our sky. It's humbling.
SFRevu: Alan, thank you for taking the time.
---