<!PHP Block to display review !>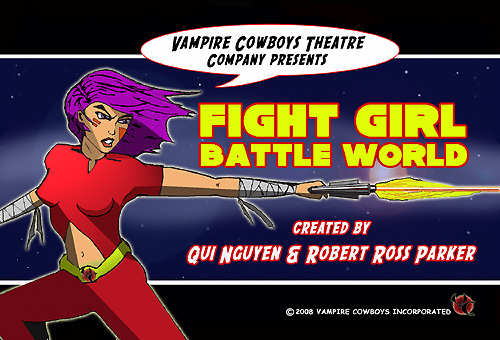 Fight Girl Battle World by Robert Ross Parker (dir), Qui Nguyen (wr/choreographer)
Review by Drew Bittner

Date: 11 February 2008

Links: Vampire Cowboys Theater Company / Reservations /

From the production's press notes:
Star Wars meets Lara Croft: Tomb Raider in the action-packed space odyssey for the stage. Set in a futuristic universe where the human race is on the brink of extinction, Fight Girl Battle World is the story of E-V, the last human female in all the known galaxies, and her quest to find the last human male before alien forces destroy him. Accompanying her is a rag-tag team composed of an ex-military General, an alien spaceship pilot, and an overly sarcastic robot sidekick. Fight Girl Battle World will utilize Vampire Cowboys' award-winning blend of stage combat, puppetry, and multi-media to explode the world of sci-fi onto the live stage. This is one outer space trip you won't want to miss!

Sometimes, even the name of the stage troupe promises something unusual. The Vampire Cowboys Theater Company, now in its sixth season, now presents Fight Girl Battle World, a stage spectacle incorporating live action, puppets and special effects.

Led by Melissa Paladino as E-V, the last human woman, the cast also includes Elena Chang, Noshir Dalal, Jon Hoche, Kelley Rae O'Donnell, Maureen Sebastian, Andrea Marie Smith, Paco Tolson, and Temar Underwood.

Fight Girl Battle World is open from March 6-30, with shows Thursday through Sunday, 8pm, at Center Stage, NY (48 West 21st Street, between 5th and 6th Aves). Seats are $18.

For reservations, call the box office number for reservations is 212-352-3101 or www.theatermania.com.
---
advertising index / info
Our advertisers make SFRevu possible, and your consideration is appreciated.

<!- Google Adsense Skyscraper --> <!- End Google Adsense Skyscraper -->