<!PHP Block to display review !>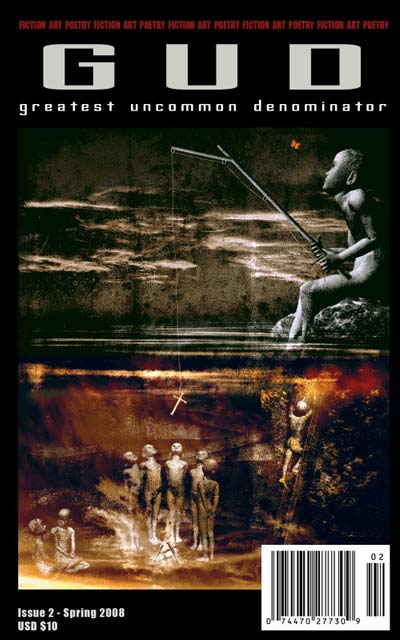 Greatest Uncommon Denominator Magazine – Issue 2 – Spring 2008
Edited by Sal Coraccio
Cover Artist: Cameron Gray
Review by Sam Tomaino
GUD Publishing ISBN/ITEM#: 19328222
Date: 26 March 2008

Links: Magazine Website / Pub Info / Table of Contents /

Greatest Uncommon Denominator Magazine #2 is here with its unusual mix of art, poetry and fiction by Scott Christian Carr, Tina Connolly, Vanessa Gebbie, Samantha Henderson, Kristine Ong Muslim, Jeremy C. Shipp and others.

The newest issue of Greatest Uncommon Denominator Magazine is here with #2. This is a truly eclectic mix and all the stories got a Very Good from me.

The fiction in the issue begins with D. Richard Pearce's "El Aberije". Natalie is an American living in Mexico and earning a living by selling "catrinas," small skeletal statues. She also is considered a minor witch. She is helped by a being who calls her "Mother," who helps her out in a dangerous situation. "Four Torments and a Judgment" by Erik Williams is a somewhat lighter tale, although it has its dark moments. A demon has a little job to do, tormenting an evil man. But things are not that simple.

In Kirstyn McDermott's "Painlessness", Faith is down on her luck and living in a hovel. She is bothered by the sounds from the next apartment. The woman next door is named Mara. She can feel no pain and heal fast, but there is more to her than that.

"The Disappearance of Juliana" by John Walters is two stories. In one, a man searches for an old girlfriend named Juliana. In the other, this Juliana is trying to find another man named Greg who was taken by the "invisible people." Her search takes her far and wide to her ultimate destination. Neal Blakie's "Offworld Friends Are Best" is told by a woman named Miri who is part of an unusual group visiting a somewhat backward world. Told in slang, the story slowly unfolds until we discover Miri's true nature.

In "Monkeyshine" by Hugh Fox, Grandpa Ryan is pleased by a visit from his daughter and grandchildren. But this is a very different family reunion. Jeremy Shipp gives us a different sort of family in "Baby Edward." Ed is a bachelor who nonetheless has a "son" named Edward, who he tells us he has made and keeps in his VW bus in the backyard. A woman named Annabelle expresses a romantic interest in Ed. How will Baby Edward react? Not as you would expect.

In one of the most beautiful stories in this issue, Vanessa Gebbie creates Jamie Hawkins in "Jamie Hawkins' Muse." Jamie has a hump on his back and one leg is three inches shorter that the other, but he has the soul of a poet. When his mother dies, he finds an strange profession to inspire his poetry.

"Freight" by Joseph Love features another unusual young man named Skoke. One day, while hurrying home to his mother and grandmother with dinner, he happens upon another young man named Artie who has fallen off his bicycle. Skoke takes him home to share their dinner, but he has a secret that he is keeping from his new acquaintance.

"The Salivary Reflex" by Tina Connolly introduces us to Allison, who judges men by how they taste when she licks their skin. She marries Tom because he tastes of burning oranges. Over the course of 10 years, the taste and her interest in Tom fades. Fortunately, aliens who are proselytizing for their religion have landed on Earth. Eventually, they come to her door.

Scott Christian Carr's "Nan" is told by a dog who has a psychic link to his master, Nan, in some future in which the world has met with disaster. Christopher Buecheler gives us another ruined world in "By Zombies; Eaten." The newly dead have risen and are munching on people, infecting them with whatever plague they have. The sheriff of a small town must figure out what he needs to do to survive.

In "The Festival of Colour" by Paul Haines, a wanderer finds himself in a town in India just as an unusual religious festival is about to begin. Will he become part of it?

Last of all, Jeff Somers contributes a sad story called "closer in my heart to thee." Bobby has seen almost everyone in his town die of a contagious disease called the Sweat. Now, his wife has become infected and he cannot be with her or he will become infected himself.

GUD magazine is in a class by itself with stories, art and poetry that you won't see anywhere else. It is the opposite of a Least Common Denominator. You should give it a try.
---