<!PHP Block to display review !>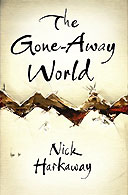 The Gone Away World by Nick Harkaway
Review by John Berlyne
William Heinemann Ltd Hardcover ISBN/ITEM#: 9780434018420
Date: 05 June 2008 List Price £17.99 Amazon US / Amazon UK /

The début novel from British writer Nick Harkaway is a huge, rambling work that fizzes with invention and a great sense of fun. One wonders how the mainstream critics will receive it, largely because to my experienced eye is it SF through to the core, and they can be a little poe-faced to say the least -- I absolutely loved it!!

Check out my review in this issue.

We live in a world full of amazing technologies –- many of which are specifically designed to divert and entertain us. Entertainment is a science as well as a billion dollar industry. In the last month the world has seen the release of Grand Theft Auto IV, a game which has Hollywood quaking in its boots and I myself I have been "geeking out" and endlessly caressing my brand new iPod Touch, also referred to currently as "my precioussss". All of this may seem an unlikely preamble to my review of Nick Harkaway's The Gone-Away World, released in hard cover this month by Heinemann, but as always, there is method in my madness. In a world of constant shiny distractions, a book as unbelievably good as this one only serves to compound the notion that little black squiggles on a bunch of portable white pages that have no need for electricity to allow them to function, still offers the best all-round entertainment experience that money can buy. The Gone-Away World is a genuine panoramic, 3D, surround-sound, total-immersion, thrill-factor ten miracle –- it is the kind of book that you just don't want to end!

Some background –- firstly this is Nick Harkaway's first novel, remarkable in itself given the sheer exuberant quality of the work. One the other hand Mister Harkaway comes from what can be considered the very best writing stock –- he is the son of John Le Carré -– though he is not treading gingerly in his father's footsteps here, so much as striding boldly forward with the makings of his very own solid brand. It is tremendously exciting to see hereditary talent like this at work –- there are genuine cases where the apple really doesn't fall far from the tree. Stephen King's son Joe Hill is a fine example and now Harkaway does his family proud too.

The Gone-Away World is a big, sprawling tall tale. It tells of two friends –- our unnamed narrator and his childhood pal Gonzo Lubitsch. As the novel opens, Gonzo and our man are part of a group of hard-ass ex-military truckers charged with the simple task of saving the world. The world in question is ours, but it is a place after the Fall, and the Fall in question was 'The Gone-Away War'. Civilisation in this post-apocalyptic setting hugs the length of the Jorgmund Pipe, a construction that encircles the planet and which sprays out a normalising substance called FOX. Where FOX falls, the world is recognisable, towns and cities prosper. Beyond this protective shield, the world is twisted and dangerous, inhabited by monsters and mutants, this being the resulting devastation of the war. And now the pipe is on fire and Gonzo and his crew have had the call to fix the problem.

From this jump off point, Harkaway flashes back to better times and we learn of our heroes humble beginnings. The novel follows a picaresque path, through childhood, the heady days of college through to the hardening of our protagonists into soldiers. We learn also of their part in the The Gone-Away War, a conflict in which WMDs played their part –- Weapons of Mass Disappearance. The science behind these supposedly cleanest of bombs (they simply make the target vanish) soon proves to be fatally flawed –- not least because it wasn't just one side which had developed such a capability, but all sides. Soon Gone-Away bombs were falling all over and in the end, no-one won the war largely due to their being little left to fight over. Via these events Harkaway relates the story of our intrepid heroes –- and their tale is engrossing, action-packed and moves with fanatical momentum, never dawdling to admire the view. The reader is propelled through this novel with abandon and the experience is entirely an undeniably joyful one, even in the sadder and nastier bits.

What really stands out here is Harkaway's narrative style –- his voice is suffused with whip-crack humour, pointed philosophy and deeply felt emotion and the consistently perfect balance he strikes throughout is a truly beautiful thing to behold. There is both great heart and great intellect in The Gone-Away World, as well as pathos aplenty and Harkaway offers a narrative that is forever fractal, curling and spiralling off into tangential observations and ruminations, side-stories, myths, anecdotes, fables and legends -- all of which are related with pithy wit and are never showy but instead integral to the development of the story.

The pre-publication furore surrounding Harkaway's début has been considerable. Such a huge advance and correspondingly huge marketing campaign are the stuff of which authorial dreams are made. The same goes for those writers being mentioned in the same breath as Harkaway –- Dickens and Heller and Vonnegut (I'd add Neal Stephenson to this list too). It's all heady stuff, but the whole thing would be moot were the material in question not able to live up to such hype. It does – in spades!

Very highly recommended.
---
advertising index / info
Our advertisers make SFRevu possible, and your consideration is appreciated.

<!- Google Adsense Skyscraper --> <!- End Google Adsense Skyscraper -->