<!PHP Block to display review !>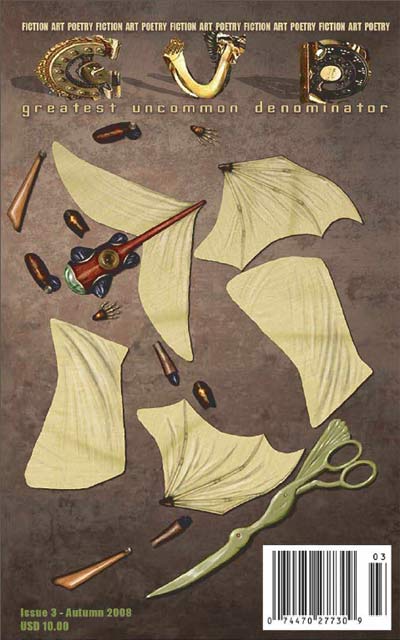 Greatest Uncommon Denominator Magazine – Issue 3 – Autumn 2008
Edited by Debbie Moorhouse
Cover Artist: Cameron Gray
Review by Sam Tomaino
GUD Publishing ISBN/ITEM#: 1932-8222
Date: 26 September 2008

Links: Greatest Uncommon Denominator / Pub Info / Table of Contents /

Greatest Uncommon Denominator Magazine #3 is here with its eclectic mix of art, poetry and fiction by Tina Connolly, Alex Dally MacFarlane, Jason D. Wittman, Frank Haberle and others.

The newest issue of Greatest Uncommon Denominator Magazine is here with #3. This is a truly eclectic mix and most of the stories got a Very Good from me.

The fiction in the issue begins with "A Song, A Prayer, an Empty Space" by Darja Malcolm-Clarke. Adan is a rebel to his church who must find his own way in this atmospheric tale.

Idan Cohen's "The Dragon's Thorn, Sword of Kings (& Fred)" is a humorous little piece about what happens when an important relic winds up in the hands of a too-ordinary guy. Ivan Dorin also gives us a humorous turn about the hassles that writers get in "Attack of the Mennonite Paratroopers".

We get back to a serious note with "Facts of Bone" by Tina Connolly. Juliana protects birds from poachers by being able to fly herself. A disaster curtails her activities until she gets help from an unexpected source.

"a father a son a disaffection" by S A Tranter doesn't seem to have any fantasy element and only a slight story about a son remembering a failure of a father.

I'd almost call "Hunt of the I-Don't-Knows" by Matthew Chad Weinman, a prose poem. As its title might suggest, it features a pack of truly clueless individuals.

Kelley Swan gives us a another unsympathetic father in "When All is Forgiven" as a young girl goes to great trouble to keep those she loves out of her father's way.

The talented Alex Dally MacFarlane gives us a lyrical tale in "Chica, Let Me Tell You a Story". Our narrator tells a little girl a story about her challenges in being a door between worlds. Michael Greenhut's "Think Fast" gives us David Spar, a man whose sister died when they were children. Her last words to him have given him a special power to travel in time. Can he achieve his most important goal? In "Measurements", Chad Brian Henry tells us of a man who is building an escape out of his world, but there will be a price to pay.

"Forgetting" by Nicole Kornher-Stace is a clever, little story. A stunt pilot wants to send a message in skywriting to the woman he loves, but that attempt has unforeseen circumstances for other people.

In T.L. Morganfield's "Night Bird Soaring", the Aztec civilization of Mexico still flourishes in modern day. It still practices human sacrifice and dominates the rest of the world. A young man is born to be sacrificed before he turns 30 but has other ideas. There is a lot going on here and we do get a believable reason as to why the culture has continued.

As "The Train" by Jason D. Wittman begins, we think we are getting a story about a woman escaping the siege of Stalingrad in 1943. However, there is a lot more going on in this well-written story that is the centerpiece of the issue. The battle is not between the Nazis and the Soviets, but involves other combatants.

Matt Dennison's "Flower as Big as the Sky" opens on an ordinary day in an ordinary neighborhood. Then, Mister Jones starts digging a hole. When he's done with that, he starts building a large structure out of wood. The neighbors speculate why but only one boy knows the real reason.

An author known only as "Evil Editor" gives us a funny tale in "Benkelstein and the Time Warp". The titular character gets off at a new exit on the highway and sees some odd signs. He gives wild speculations about what is going on and his wife must figure out a way to keep him in control.

In "The Great Big NOTHING" by Frank Haberle, a man in a rut takes a special trip and meets a fine woman who might help him to improve his lot. Tania Hershman's "Splitting the Atom" features a man who has a unique way to accomplish the action on the title. Aliens invade in "Soon You Will Be Gone and Possibly Eaten" by Nick Antosca. When the aliens arrive, a man is on vacation with the woman he loves but things take a sad turn.

Last of all, there's "Persian on the Forty-Second Floor" by Keesa Renee DuPre. A young girl can talk to her cats and see things from a different point of view. The end of this one touched me very personally.

GUD is really something completely different. You don't get stories like this anywhere else. You should give it a try.
---