<!PHP Block to display review !>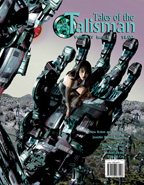 Tales of the Talsiman – Volume 4 – Issue 1
Edited by David Lee Summers
Cover Artist: Laura Givens
Review by Sam Tomaino
Hadrosaur ISBN/ITEM#: 1558-0377
Date: 26 September 2008

Links: Tales of the Talisman / Pub Info / Table of Contents /

Tales of the Talsiman, Volume 4, Issue 1 is here with stories by Richard Harland, Edward Cox, Frank Tavares, John L. French and C.J. Henderson, Jennifer Rachel Bauner, Rick Novy and others.

This is the first issue of Tales of the Talsiman that I've read. Based on the contents of Volume 4, Issue 1, I hope to see more. This issue is in large magazine format with more than 90 pages of stories and poems. Most of the stories are by authors of which I'm unfamiliar, but I liked most of them.

The issue begins with "The Seventh Jar" by Richard Harland. Sonia is an American of Russian and Ukrainian descent who finds herself low on funds in a casino in the new Russia. The casino owner offers her money if she will stay with him while he opens a rare artifact. Harland spins a great little back story on the culture behind the artifact and fashions a good little tale.

Edward Cox gives us a funny little story with "The Trouble with Hiring Skips." Newman arranges to lease a refuse skip in front of his house. The problem is that when people do this, a worn-out old mattress materializes on top of the skip. To make matters worse, the dead body of Norman's neighbor winds up on top of the mattress. This was a really strange but fun entry.

In "The Invisible Enemy", Lawrence R. Dagstine gives us a tale set during World War II. Captain Harold Nerwitx is the commander of a U-boat that the Allies have taken from the Germans. Impersonating the enemy, he must not only worry about "friendly fire", but something even more dangerous.

Frank Tavares' "How I Ended Up with Hoover's P-Town Apartment" features Manny, who talks his friend Hoover into stealing the wrong truck. I found this one pretty amusing.

Mark Daniels opens "Little Devil" with a little boy named Billy telling his mother that his head hurts. As you might expect from the title, aspirin doesn't help and the kid starts growing horns and more than that. How can his parents deal with this?

In "The Show Must Go On", Michael Swaim gives us a bizarre future tale of Unit Cygnus X-1, a lone man sent from Earth to find out what it's like to enter a black hole. He has been altered so that all of Earth can share his experience. Things do not go as planned.

John L. French and C.J. Henderson collaborate on an amusing tale of the Pelglimbly Institute of Advanced Sciences where experiments frequently go awry. When they set their supercomputer to find a link between fingerprints and DNA, they choose the wrong day to run the program.

"Job Security" by Michael D. Turner features Matt Davis, who gets a job working security at a strange industrial plant. With a cigarette-smoking man and a familiar-looking man and woman get involved, things get even stranger, but things work out for Davis.

"Above the Event Horizon at the End of Time" by Gray Rinehart seems to be just a prose poem from the point of view of a black hole. In "Nightshade and the Dream Painters", Donna Marie Robb creates some sort of fantasy realm where Dream Painters create dreams for mortals. Nightmare Weavers fashion something else. Dream Painter Nightshade is tempted by Njim (of the other group) to do something that would cause the death of another. She makes the right decision in this well-written tale.

Jennifer Rachel Baumer sets "Desert Spirts" in the modern world. Analiese must get away after breaking up with her boyfriend. She chooses to explore a cave all on her own. Not normally a smart thing to do but Analiese has hidden talents.

Rick Novy's "The Great Basilisk Race" features Korak who wants to win a race with his pet basilisk, Dotty. Even in this setting, the story is not particularly original and neither is the name Korak.

"Odin's Gift" by Michelle D. Sonnier rounds out the issue with a nice little fantasy tale. Branwen is a young girl who can speak with birds. She meets an especially interesting one and her life changes.

All in all, I liked this issue and recommend it.
---