<!PHP Block to display review !>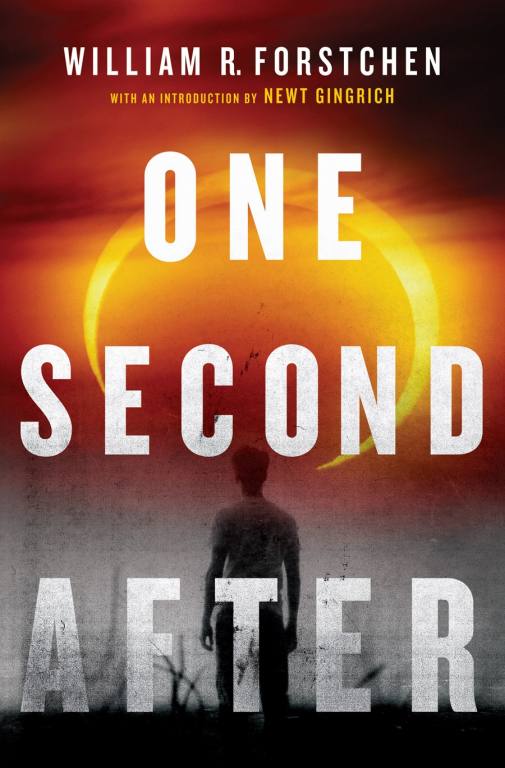 One Second After by William R. Forstchen
Review by Ernest Lilley
Forge Books Hardcover ISBN/ITEM#: 9780765317582
Date: 17 March 2009 List Price $24.95 Amazon US / Amazon UK / Author's Entry / Show Official Info /

When a High Altitude Electo Magnetic Pulse attack destroys much of the world's technological infrastructure, rural Black Mountain, NC faces the grim realities of life after the high speed global economy. Like Alas Babylon and other post atomic war novels of the fifties and sixties, One Second After follows the story of a small group of resourceful folks suddenly cut off from the support of the global economy, faced with the realization that they had vastly more people on their hands than the land could sustain and hordes of urban refugees on their doorstep. The only kindness around is that anyone who needs modern drugs or medical support to stay alive won't burden them for long.

Colonel John Matheson was a rising officer in the Army, slated to put on his first star when his wife was diagnosed with cancer. So, he left the Pentagon, where he'd spent time thinking about the bad things that might happen to everyone, to deal with the bad thing that had happened to himself. Though a boy from the northeast, he moved his wife home to Black Mountain, North Carolina, where they settled down near her kin. Our story opens several years later, with John raising his two daughters alone. John teaches history at a local college and the only bad things he worries about are the rate at which his teenage daughter is growing up and keeping his youngest daughter's diabetes under control.

All of which changes in a split second, when the very bad things he was trained to worry about become reality. One second he's talking on the phone to a friend still in the military...the next he's plunged into a world where the transistor might as we well never have been invented, because a series of High Altitude Electromagnetic Pulse Weapons (HEMP) have just fried them. Silently, instantly, permanently.

As he holds the dead phone and looks at the ceiling fan slowing to a stop, John has a premonition that this isn't your average power failure, though it takes a day or so before he knows for sure what happened. As both a student of history and a military commander, he has an idea of what's going to happen next, and he knows it's nothing good.

One Second After contrasts the coping ability of a group of people with the knowledge and courage to move forward to the inevitable winnowing of the herd that that we would see if the prop of technology was pulled out from under the human race.

The mass die off in One Second After is grim, but the survivors are tough, determined folks. Looking back over his life and that of his depression-era parents, the author seems to believe that not only are we living beyond our means, and the means of the planet, but also that we're heading for disaster sooner or later, regardless of whether or not our enemies explode bombs over the country. In fact, he seems to think it might be the sort of challenge that we need to regain our vigor. Personally, I'd like a less drastic call to action, but maybe I'm just a wuss.

"Post Techno-Civilization As We Know It" is a substantial genre unto itself. One Second After, with its storyline of a self-reliant community pulling together around a savvy student of history, resonates most strongly with journalist-turned-author Pat Frank's Alas Babylon, published fifty years ago. In Franks' novel, nuclear war disrupted the complex mechanism that society depended on, leaving a small Floridian town to struggle for survival in a world suddenly gone dark. If you've read Alas Babylon, you'll see the echoes in One Second After, no surprise since the author references it in the forward, as does Newt Gingrich in his forward and HEMP expert Captain William Sanders, who cites it in the afterward, along with apocalypse classics Dr. Strangelove and On The Beach.

The great weakness of civilization is its urban centers, and Black Mountain is close enough to one, Asheville, that we get a ringside seat on the meltdown that ensues there. Black Mountain, on the other hand, is perched between sustainable and extinction. Just agrarian enough to support a moderate population, but not part of the nation's breadbasket, it's a community that has a chance at survival, but nothing to spare for the outside world, and so the walls go up. The lesson here is that those who fail to study history are doomed to find themselves on the wrong side of the wall from those who've taught it.

The difference between nuclear and HEMP apocalypse is the speed of the dying, and the hope for recovery, which is slower for the first and better for the second. HEMP devices destroy the electronic infrastructure without touching the physical infrastructure, or the ecosystem. Not that the cessation of technological civilization wouldn't have an impact on the environment. One of the questions you can't help but ask by the end of the book is whether living on life support is a good thing to do. We may wake up to find that the lights don't work, but if that day doesn't come will we really be better off?

The choice of Black Mountain as a setting is interesting, though hardly a reach for the author since it's where he lives. He's placed himself in the midst of the biggest looming threat that he, a military historian, sees on the horizon. I don't think that this is an indication of a lack of imagination, but a serious thought experiment in which the author tries to answer the question, "What would I do if it all went away?"

Though the author isn't a former military officer, he's been just about everything else you can imagine, since when he started to teach history in the '70s it was a pretty much dead skill. Riding shotgun on a garbage truck, apple picking and doing grounds keeping (yes, I read the bio), all no doubt left their imprint on his writing, and the clarity with which he sees the characters in One Second After.

The "technology goes away story" is a very popular trope in SF/Fantasy, though HEMP isn't the usual boogeyman. Usually, it's a merger of another universe with ours, or travel through some region of space where physics works differently, or elfin magic.. SF media actually scores some points here, with a HEMP apocalypse being the setting for the TV series, Dark Angel, and the last act of Snake Plisken in Escape from LA. Neither of those works take on the gritty business that One Second After does, of showing what it's like to live through the next second, and the days after that.

Plot-wise, there's nothing here that you don't expect. The story arc is much the same as you'll find in most novels of the genre, from When Worlds Collide to Alas Babylon. The bad thing happens. Hard choices are made. The good die young, but the bad die hard. A hardy few survive in an uncertain future. Roll credits.

One idea stood out for its novelty. The same circumstances that leave folks disaffected with the American Empire to act against us leaves a significant portion of our military in places where the EMP blast isn't felt. The result is a country without electrical power, but with a significant military force overseas that could return to its aid. That story would be an interesting read on its own.

Unfortunately for Black Mountain, help doesn't arrive that fast, so our heroes are on their own. This is actually something I consider a weak point in the realism of the book, as I'm of the opinion that communications could be re-established much more quickly than the author manages, and that power could be restored much more rapidly than he imagines, especially with the advent of small renewable power sources. Maybe he's right, or maybe we just have to accept this as part of the story's premise..

One Second After succeeds in its mission as a cautionary tale about a clear and present danger, written by a knowledgeable author.. What I'd like to read is the novel that unfortunately can't be written with similar authority. The one that takes place One Century After.
---
advertising index / info
Our advertisers make SFRevu possible, and your consideration is appreciated.

<!- Google Adsense Skyscraper --> <!- End Google Adsense Skyscraper -->