<!PHP Block to display review !>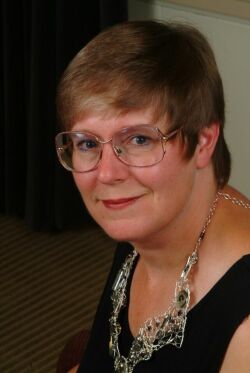 Interview: Lois McMaster Bujold by Gayle Surrette
Review by Gayle Surrette
SFRevu *Interview
Date: 01 February 2009

Links: Review: Sharing Knife: Horizon / Bio for Lois McMaster Bujold / SFRevu's 2004 Interview /

We've been following the career of Lois McMaster Bujold for some time now. Or to be truthful, we've been reading her books and in our office the arrival of a new book is occasion to put everything else aside and read, read, read. So, after reading The Sharing Knife: Horizon which winds up the four book series, it seemed like the perfect time to interview Lois about her books, her writing, and what comes next. Luckily for us, she was willing to answer our questions.

SFRevu: Now that with Sharing Knife: Horizon, the four book story arc has been complete, will there be any more stories of Dag and Fawn or in this universe?

Lois McMaster Bujold: It's too soon to say. I am presently partway through a new science fiction book contracted with Baen, which is going to be very late, after which I am way overdue for some down-time to refill my well. But absolutely that setting and those characters are wide open and invite further development. Not only could I move forward, to see what happens next, there's a whole other realm of possibility moving back in time, to see what the high magical culture of the old Lake League was really like, before their disasters. How were the mages made? -- because they were, you know. There is, quite literally, a wide green world full of beguiling possibilities.

But no plans, as yet.

SFRevu: While a fantasy, as the malice and the semi-psychic Lakewalker's make clear, the series had a real feel of the old pioneer days or recovery after an apocalyptic event? Was that the intent? I believe I heard you say at a convention that you were trying to give the feel of the US midlands or Mississippi area. Do you feel you succeeded?

Lois: This setting has garnered a wide range of responses from readers. Readers familiar with the Midwest, the old Northwest Territory as it was styled in the last part of the 18th century and first of the 19th, claim I've nailed it perfectly; readers unfamiliar with my home region of this country -- Ohio, specifically, plus parts of Indiana, Kentucky, and Western Pennsylvania -- seem to parse it as some sort of generic fantasy setting, missing the careful regional particularities in what seemed to my eye a wealth of detail. About the only thing missing was the "Chew Mail Pouch Tobacco" ads painted on the sides of barns. Leading me to wonder, is the Midwest where generic was invented?

The Grace River setting shown in Passage is, quite specifically, based on the Ohio River, not the Mississippi, though. I've had the hardest time getting that across to folks. It's as if the Mississippi, and the lower Mississippi at that, is the only American river that exists on their mental maps. I blame Mark Twain, myself. But his voice, however fine, is not the only possible source of story. I deliberately went to other writers and river memoirists, when I was booting up my brain for that book.

I should probably say, again -- although inspired by the landscapes of my youth, and a desire to see what would happen when one removed the standard European medieval template from fantasy and gave it an American-style one, the wide green world is not and has never been our world, past or future. It is not alternate history. It is its own place. Mine.

SFRevu: Your characters are all so multidimensional and real that I find it very easy to slip deeply into the world you created and the story for the duration of the book. It seems that I'm not the only one to do this. Does the fact that so many fans get so attached to these characters and continually ask for more books/stories with their favorites create any problems for you when you're planning your next project?

Lois: Yes and no. I generally try not to tell people what I'm planning till I'm well into it. Saves argument. My artistic freedom, or at least, turning room, is very important to me.

In a way, all the nice fans who come up and tell me what -- usually soap-operatic -- idea they have for my next book are doing me a service: I know that those are ideas to stay away from, as they're too easy to think of. It is a curious phenomenon, but perfectly psychologically explicable, that people generally only ask for more of whatever they liked before. Because you have to know what something is in order to ask for it, after all. No one ever says "Surprise me!" and really means it.

But it's a problem for any book when a reader starts it with a mad on because it's not some other book, the one they expected or thought they wanted. It's a real challenge to pull that reader into the tale they actually have in front of them. Yet it can be done. For my consolation, I note when reading through my old Amazon reviews that *every book I've ever written* has drawn just that response from somebody.

That said, one of reasons for the popularity of series generally is that the characters in some way become friends of their readers, and there is no limit to the number of times one wants to see one's friends again. But the readers only have to live closely with the characters for the day or two it takes to read the novel: I have to keep them stuffed in my head for a year. The question I must ask for that long haul is, not what will give others the most pleasure to read, but what will give me the most pleasure to write? Because otherwise I might as well be flipping burgers.

So I write what I like, and then hope -- or, at book-launch time, pray -- that enough others will share my tastes.

SFRevu: I know that you planned to do a Chalion book for each of the Gods -- will there be a next Chalion soon? What's on the horizon that readers can look forward to?

Lois: Don't know yet. It's all I can do right now to claw my way to the end of the chapter I'm presently writing, or not-writing. Whoever described writing a novel as like eating an elephant one bite at a time had it dead-on.

Structurally, Chalion wants to be a 5-book thematic series, one volume for each of the five gods. And I do have floating notions for both the Father's (god of justice) and Mother's (goddess of, among other things, medicine) books. But they are not developed yet.

With three live series on the ground, as it were, I'm sort of like a dog trying to chase three rabbits. I have to focus, year by year, or I'll catch no dinner at all.

SFRevu: What's the most difficult part of being a writer for you? The writing? The plotting? World/Character development? The publicity? Dealing with the public/fans/conventions?

Lois: In the writing, the world-character-plotting are all of a piece. Despite the fact that the Miserable Middle can last from Chapter 2 to Chapter 22 of a 23-chapter book, the writing is the best part. I sometimes wonder if writing novels isn't a dissociative disorder, actually. The writing wells from within; the PR is imposed from outside, like some sort of homework or take-home test. And I never was very good at doing my homework…

As something of an introvert, for me the increasing PR burden that has been laid upon modern writers is the most difficult part. Mind you, I could happily listen to other people talk about my books all day long, but as Book Launch Madness Season stretches, I sure do get tired of the sound of my own voice.

I like cons and fans, hate airports. Getting there isn't half the fun anymore. I probably shouldn't click in to CNN.com and read all about the latest airplane crashes just before a book tour, either.

SFRevu: When you're not reading or writing, what hobbies do you enjoy? How do you replenish the well, so to speak?

Lois: Hobbies…? Did I have hobbies, once?

Reading books I didn't have to write is certainly one -- usually outside my genre. I do a lot of random reading on the Net (who doesn't, these days?) which widens my world, in an erratic fashion. Thanks to Netflix, I have in the past few years been watching vastly more animation and anime, and found it fascinating on many levels. I knew about anime from seeing (rather mysterious) fragments at cons back as far as the mid-80s, but there was no access before.

I had activities in my youth, before kids and career, that all dropped out decades ago -- photography, guitar (no musical talent, alas), knitting, horseback riding, canoeing. I'm not sure that I would go back to them, given the chance (which, indeed, I could have now if I wanted to bestir myself.) It's likely time to try something new, bust out of the staleness. But I have no idea what will come along next.

But not right now. I'm writing this book, see…

SFRevu: Anything else?

Lois: I am tremendously excited, not to mention distracted, to see how Horizon will work for readers. When a writer sets out to play several kinds of merry hell with genre expectations, tropes, strictures and structures, the results are bound to be disconcerting, sometimes even to the writer. The Sharing Knife broke new ground for me on a number of levels, among them that of writing a different series template from either of my prior series -- in this case, that of one long constantly-building tale divided into several volumes. As a result, Horizon is necessarily the only book of the four to contain an actual ending, giving closure not only for itself but for the entire story arc, which ought to have an effect on reader satisfaction, not to mention my own. For the first time, readers will be able to see the pattern whole, as a whole, from the first sentence of Volume One to the last of Volume Four. How many will take it in? From the preliminary reviews, the answer seems to be (as always) "some", but I do hope for "many", in due course.

SFRevu: Thanks for your time.
---