<!PHP Block to display review !>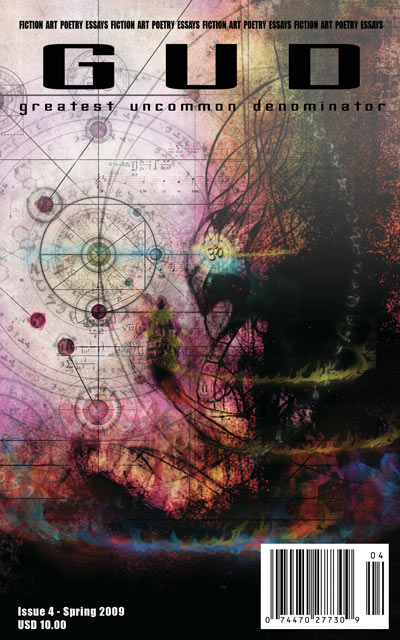 Greatest Uncommon Denominator Magazine - Issue 4 - Spring 2009
Edited by Julia Bernd
Cover Artist: Jesse Lindsay
Review by Sam Tomaino
GUD ISBN/ITEM#: 1932-8222
Date: 23 June 2009 / GUD Magazine / Pub Info / Table of Contents /

Greatest Uncommon Denominator Magazine #4 is here with its decidedly different mix of art, poetry and fiction by Ian McHugh, T.F. Davenport, Nik Houser, Mithran Somasundrum, and others.

The newest issue of Greatest Uncommon Denominator is here with #4. This is a decidedly different mix and I thought all the stories were worth reading.

The fiction in the issue starts with "Unbound" by Brittany Reid Warren. This begins with what seems like a very normal situation when our narrator's brother's twelfth birthday party is a dud. Things become even more unsettling in this unique tale which makes good use on Norse myth.

Nik Houser shows us a bizarre world which seems very familiar in "Q&A". A "Q" is found dead and mutilated and an "A" detective must investigate. The victim is really a letter Q and the detective a letter A and as things go we get some obvious allegory but an effective tale nonetheless.

In "Flip Lady (1986)" by Ladee Hubbard, a girl in 1986 gets a special treat from a lady who makes a homemade popsicle for the neighborhood kids. We see that more is going on in this atmospheric story.

"The Dancing Aliens" in the story by Mithran Somasundrum are just that. Aliens suddenly appear and dance (without music) in open areas. They dance until they are fed but for a purpose in this well-written piece.

Shweta Narayan's "Daya and Dharma" takes place in an unnamed land that seems like India. Daya is a servant to a vain spoiled princess who has turned down all suitors. When one just sends a bird, the princess is intrigued but Daya understands things better in this beautiful story.

"Long Winter By Night" by D. Elizabeth Wasden is also set in another land but this is the Soviet Union in 1941 as the German invasion progresses. Iosef Stalin sends Lavrenti Beria on a special mission to someone who can help the Russians. But the help will come with a price in this nice little tale.

"Unfinished Stories" by J(ae)D Brames is one of the strangest stories in the issue. Albert is a mail carrier that has an interesting hobby. I won't give it away but we'll just say he likes to work with animals. No, it's not what you are thinking. Brames contributes exactly the kind of offbeat story that GUD is known for.

In Kerry Hudson's "The Thirst", we meet Dave, an alcoholic but also a regular guy who sells shoes. One day he catches a woman shoplifting and becomes involved with her. She's an immigrant from Romania and she, too, has a thirst. All this contributes to an effectively told tale.

"Vore: or, Levity in Dungeons" by Adrian Versteegh is another seriously odd piece about people who are confined and making the best of it. How they are confined is what makes the story memorable.

"How Ramona Saved the Ducks" by Allan Richard Shapiro is an excerpt from a novel and features a somewhat dysfunctional family sitting down to a Thanksgiving meal. Their little girl has unique outlook on things which makes the story special.

In "Forests of the Night" by Abigail Hilton, a family leaves an elderly, dying woman named Adel at a hospice. She says some very strange things to her caregiver and wants to escape into the forest. This was all told in three pages and was one of the best stories in the issue.

The lead character in "Stiletto" by Ian McHugh is a woman who went by the name of Ruby Tuesday in some future Australia when it was ruled by a Junta. She served the old government and is coerced into a plot against the current rulers known as the Clean Hand. She needs to enlist the aid of an old associate named 2Fly. This all comes together in a well-told tale.

"How's Your Sister?" is what our narrator is always asked in the story by Anne Goodwin. We eventually find out something of the nature of the sister's medical problem, but that only leads to more questions in this distinctly unsettling piece.

The setting of "A Man of Kiri Maru" by Laura Sullivan is a remote island in the Pacific Ocean, off the Peruvian coast. They have a religion based on a god who died and did not come back. A famous anthropologist found it so interesting there that she stayed and raised a family. Her daughters are now grown and one becomes involved with a visitor who finds out what you need to do to become "A Man of Kiri Maru". The story was as unique as the religion portrayed.

Finally, we have "Maya's World" by T.F. Davenport, a decidedly different take on survival.

GUD is not for everybody as a glance at the Table of Contents will tell. If you like the off-beat tale that works, though, you should give it a look.
---